Academics' Choice Award™ Winner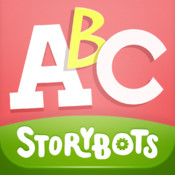 StoryBots ABC Videos
Ages: 3 - 7
Price: Free ($4.99 for all videos)
Type: App (iPhone or iPad)
By
StoryBots
Description
Ready for a fresh take on music and videos that teach the alphabet? This series of 26 one-minute rockin' music videos helps kids identify the shapes and sounds of letters -- AND chases away the "Kids Music Makes Me Want to Bang My Head Against the Wall" blues! The ABC Videos app is available for free on the iPhone, iPad and StoryBots.com, and comes with three music videos. An "All-Access Family Pass" unlocks all 26 videos as well as unlimited access to the entire collection of StoryBots apps, for only $4.99 a month.
Review Highlights:
The songs are still stuck in my head - and my childrens'. "I'm crazy for C!" "Gimme G, it's the letter for me!' My kids loved the songs and animations. The Storybot characters are adorable and culturally sensitive. The videos do a great job of reinforcing letter recognition and introducing words and images that start with the letters. Our whole family was giggling and thoroughly enjoyed the videos - even my oldest who knows the alphabet quite well.
Buy this product at:
This app is no longer available. Netflix purchased the company in May 2019. You can still enjoy their catchy educational songs on Netflix.
As an Amazon Associate we earn from qualifying purchases.