Academics' Choice Award™ Winner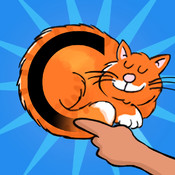 Talking Shapes
Ages: 3 - 6
Price: $5.99
Type: App (iPad), Book, Game
By
Talking Fingers Inc.
Description
Children discover that the words they say can be turned into words they see and that letters are really "talking shapes" that stand for speech sounds.

Noted neuropsychologist, Dr. Jeannine Herron, has applied the most recent research on how young brains learn to create these wonderfully interactive stories about how two sisters invented the alphabet "long, long ago". While constructing and drawing letters and words with Talking Shapes, children learn to make spoken words visible, developing essential reading skills as they play. Letters are embedded in pictures that help children remember both the sound and shape of each letter.
Review Highlights:
Talking Shapes teaches phonics and phonemic awareness using 17 letters and 18 phonemes. Three books (The Fat Cat, The Silly Hen and The Dancing Pig) are in included in the one app making it a great value. By the end of the third interactive storybook (which include reinforcing reading and word games) children are able to read, spell and sound-out at least 30 words. Letters are embedded inside easily recognizable and age-appropriate pictures (mnemonics), helping preschoolers and kindergarteners make the critical link between each letter and its sound. The research-based iPad app excels at teaching students that 'the words they know how to say can be turned into words they see.' The app stands out by also teaching children how to draw the letters, and decode and build simple three letter words from the letters they just learned. The simple yet effective approach builds confidence quickly. My daugher really loved the drumming monkey in the "flying pig" word game. She laughed at it everytime - just the right amount of silliness as a reward. It kept her glued to the fantastic program.
The navigation was clear and easy to use, even for my 4-year-old son. I didn't really have to tell him where to go, he just listened to the story and started playing, and learning!
As a parent, I really appreciated the fact that the program could be played independently. I was right there with her the whole time, but I barely had to do anything and now she's reading and writing words! This app delivers. It just works. And I loved the storyline too - two sisters who invent the alphabet - clever and adorable. I highly recommend it.
Buy this product at:
As an Amazon Associate we earn from qualifying purchases.