Academics' Choice Award™ Winner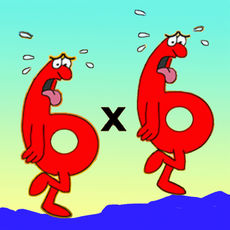 Times Alive™
Ages: 4 - 12
Price: $14.99
Type: App, Game
By
City Creek Press, Inc.
Description
Times Alive includes animated cartoons, stories, songs, quizzes, and interactive games to teach all the times tables 0s-9s. App keeps track of student progress showing completed lessons, test scores, and time for completion. Easily clear progress to re-take a test or to start a new student. Includes scorable multiplication test with time elapsed. Studies show our picture, story, and song program outperforms most methods for effectiveness and retention of the multiplication facts. Shown helpful to boost math skills for students with dyslexia, adhd, dyscalculia, autism, and other learning differences.

Times Alive is designed to make memorization easy and fun so students are eager to learn and can proceed with the times tables committed to memory, in order to solve higher math including ratios, division, and algebraic equations. Internet connection not needed after initial download. Times Alive is based on the widely used and award winning book, Times Tables the Fun Way. Provided by City Creek Press, established in 1992. Times Alive content is the same as Times Alive Lite if the in-app purchase has been made. Times Alive participates in the Volume Purchase Program for Education enabling schools to purchase at a discount.


Review Highlights:
Times Alive was a game changer for my son. We discovered the videos several years ago, and a light almost instantly came on for my highly visual learner. What once had been stressful was suddenly fun.
I love that Times Alive makes learning fun. The usage of not only songs, but cartoons and engaging imagery really helps learners commit the multiplication facts to memory. Using memorable (and cute!) imagery to help children connect pictures to facts is ingenious and effective. Unlike many other math fact memorization tools, children will WANT to work with Times Alive. It is so refreshing to have a memorization tool that does not involve toiling over worksheets or stressing about a timer.
As a parent, it was great that a tracking system was built right into the app - allowing you to quickly see what your child had actually worked on/completed during their time using the app.
Buy this product at:
As an Amazon Associate we earn from qualifying purchases.