Academics' Choice Award™ Winner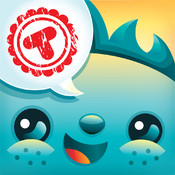 Toonia Storymaker
Ages: 4 and up
Price: $5.99
Type: Mobile App
By
3fs d.o.o.
Description
Toonia Storymaker is a fun educational toy that allows kids to create their own illustrated stories in a simple drag and drop interface, inviting them to actively explore different storytelling techniques and express their creativity. Choose your world and your characters, move them around, change their color, size, posture or emotion, choose a symbol or write text they are saying. It's like lego bricks for illustrated stories. From fairy tales to adventures in space, Toonia Storymaker allows for endless possibilities and hours of fun for both kids and parents.

Toonia Storymaker is a playful introduction to visual storytelling, increasingly important and sought after skill in a wide range of areas as well as in every day life. Children are naturally drawn to stories and cartoons, but too often they are only allowed to consume what grownups prepared for them. How will they ever learn to tell their own stories if we don't let them try? To become a pianist you can't just listen to the music - you need to play the piano. And to become a great storyteller there is Toonia Storymaker.

Features:
- Choose from a large variety of beautiful worlds, characters and props to create your own illustrated stories.
- Change characters' colors, size, posture and emotion. Choose a symbol or write text they are saying.
- Choose your avatar and make it your own.
- Save your creations to your bookshelf and share them with your friends.
- Read stories you made yourself or check out Toonia stories for some inspiration.
- Beautiful original graphics.
- Kid-friendly interface.
- No in-app purchases, no advertising.
- No rules, no limits, play anyway you want to.
Review Highlights:
Toonia Storymaker is a wonderful way for a child to express themselves either verbally or non-verbally. This app could be used by children as young as 4 or 5 depending on their experience with apps. There is a sense of play in this product that gives the child an opportunity to explore their own idea of a story that doesn't neccessarily need words. There are multiple locations, characters and objects the child can use to help in telling their story. If the child is a few years older, smalll captions can be placed above the character in a comic strip type manner. Many apps these days are busy, over stimulating for the targeted age, and filled with too many complex colors. The simplicitiy and overall aestheitic of Storymaker is attractive, not filled with too many visual distractions, and has loads of character. I will keep my eyes open for more products by 3fs d.o.o.
Buy this product at:
As an Amazon Associate we earn from qualifying purchases.