Academics' Choice Award™ Winner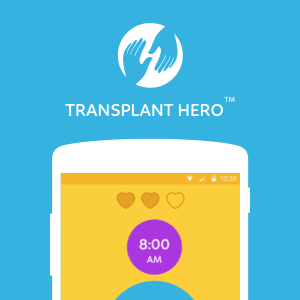 Transplant Hero - Medication Reminder for Transplant Patients
Ages: 5 - 12
Price: Free
Type: Mobile App
By
Transplant Hero LLC
Description
Transplant Hero is a beautifully created app that helps transplant patients deal with the seemingly impossible task of taking their immunosuppression medications in a timely fashion.

At the core, Transplant Hero is an alarm system that alerts the user when it is time to take their medication.

However, Transplant Hero is so much more! It is an interactive, educational and simple to use tool that offers users positive reinforcement for medication adherence.

In talking to patients over the years, it has become evident that taking medication is not easy. First of all, there are so many! Secondly, these medications apparently need to be taken at all hours of the day and night.

Transplant Hero clears up the confusion by focusing on some of the most important medications and timing them appropriately ó so you donít have to. Together with that you have total control over the timing of the medication notification.

The app is designed to help transplant patients enjoy life after transplantation, that is why it is very easy and fun to use.

By taking medications regularly, a patient is rewarded with awards that engage him with a fun game and challenge him to earn cool rewards towards eventually becoming a Transplant Super Hero!


Review Highlights:
This app will simplify the process of scheduling transplant medications. Transplant Hero will remind you when to take your pills so you need not worry about missing the proper dose. This leaves more time for the patient to focus on other import things during recovery.
Find this product at:
As an Amazon Associate we earn from qualifying purchases.