Academics' Choice Award™ Winner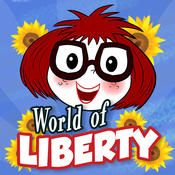 World of Liberty "Paintings, Planes, and Pioneers!"
Ages: 4 - 10
Price: $1.99
Type: Mobile App, Book
By
World of Liberty, LLC
Description
World of Liberty is a children's storybook educational adventure app series that educates and explores the ways America is connected to the world. The heart of the series is a curious and adventurous 11-year-old girl named Liberty Lane.

She and her three best pals discover what she likes to call, "country connections;" things America has in common with other countries, focusing on one state, and one country at a time. She loves learning about the world, charting maps, helping new friends, and has an energy that is simply contagious! Liberty's journeys reveal how the different cultures around the world touch our lives and broaden our horizons.

Adventure #3 is here! Liberty, Ellie, Georgie, and Truman are inspired to discover the state of Kansas after a school field trip to the Air and Space Museum! Liberty learns all about a famous lady pioneer of history, Amelia Earhart and her red Vega plane. Liberty's discoveries in Kansas lead her and her pals to the country of Mexico, where they discover another museum and learn about another lady pioneer of history, Frida Kahlo! Liberty's "country connection?" Pioneers of history!


Review Highlights:
We really liked the song and the story of Amelia Earhart. This is the perfect app/story if you are teaching a unit on "Pioneers" or "Women in History."
I think the best context for this app/book would be in a second or third-grade classroom. The connection of "pioneer" is a wonderful connection to make with both Earhart and Kahlo. I do like how it is a cross-cultural connection too. The girls in the classroom would most likely relate to Liberty.
Buy this product at:
As an Amazon Associate we earn from qualifying purchases.