Academics' Choice Award™ Winner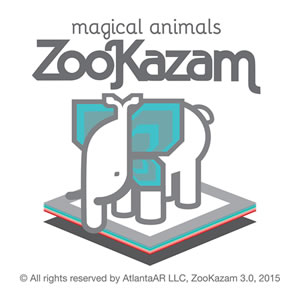 ZooKazam
Ages: 2 and up
Price: Free with In App Purchases
Type: Mobile App
By
Atlanta AR Design LLC
Description
ZooKazam is a fun mobile app created to be educational, engaging and interactive while featuring a technological breakthough. ZooKazamís mission is to enhance our world by utilizing augmented reality technology to promote education and entertainment through a magical exploration of the animal kingdom. This app possesses a unique ability to immediately capture the userís attention.

Our team is a compilation of tech nerds and visual artists that combined powers to create the most advanced augmented reality mobile platform available for mobile devices. ZooKazam has taken augmented reality to the next level by using virtually realistic content, incorporating a user-friendly interface, providing high technology at an extremely low cost and developing a unique user experience.

We have developed a collection of holographic animals coupled with educational information to help educators make learning fun and incorporate advanced technology into their lesson plans.

We imagine teachers using ZooKazam in their science or art lessons. We envision students exploring animals using the app and creating projects or reports based on what they hear and see. After receiving multiple requests, we created a plan to make our app available for volume purchases by interested schools.


Review Highlights:
Simply Awesome! My students loved it. A high-tech, 3D twist that gets kids hooked on learning about animals!
The Augmented Reality (AR) aspect really excited and engaged my son. He called it "magic." We had a great time learning about animals and placing them on different backgrounds. The fact that they moved and reacted when we touched the target made it all the more incredible. Two thumbs up!
ZooKazam is visually stunning, highly interactive, and unique. As an animal lover (and as a parent of four budding zoologists/animal enthusiasts), I loved the way ZooKazam got my children excited about animals in an entirely new way. It was so much fun to watch their creativity come to life as they interacted with the app. It's not often that an app is inspiring, educational, engaging, and fun for the whole family.
Buy this product at:
As an Amazon Associate we earn from qualifying purchases.