Award-Winning Educational Freebies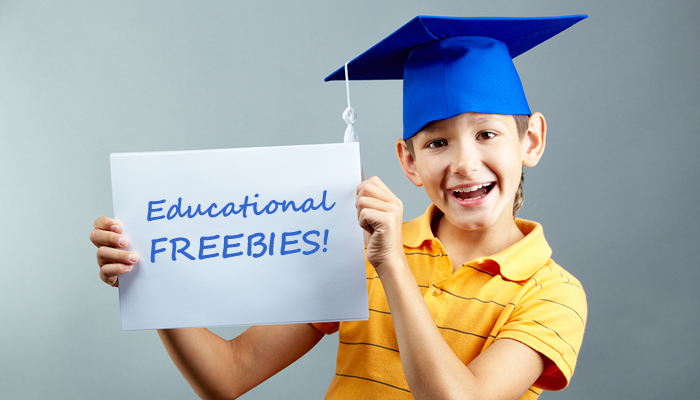 What parent or teacher doesn't love free stuff—especially when it's reviewed and approved by highly qualified academics, parents, teachers, homeschoolers and children?
Academics' Choice™ helps educators find the best brain-boosting material on the market. We
evaluate products
based on educational benefits such as higher-order thinking skills, character building, creative play, durability and originality. Discover all of the award-winning, mind-building freebies & freemiums below.
From gamified reading platforms to Disney digital stories to interactive Dr. Seuss books, you'll find plenty of free reading materials.
Discover teacher-approved math programs, flash cards, vocabulary games, social-emotional learning systems, multimodal resources for teaching age-appropriate reading and science concepts, STEM (Science, Technology, Engineering, and Math) activities, authoring and presentation software, science simulations, coding, and incredible educational online worlds.
Learn to code while playing games—for free! Learn English, financial literacy, math, explore real-life scientific and historical concepts, improve vocabulary with fun word games, develop critical reading skills, learn about animals and habitats, chemistry, and more!
Discover state-of-the-art reading experiences, award-winning apps that teach phonics, letter sounds, coding, art and design principles, basic music concepts, and tons of mind-building word puzzles, brain games, and interactive adventures that improve critical thinking skills.
Learn computer science, money management, reading, writing and storytelling, math, geometry, solving proofs, physics, chemistry, and biology concepts, and so much more! These free websites provide safe environments to teach, practice and learn perseverance, empathy, teamwork, play and learn in virtual worlds, and even discover the world's cultures and diverse lifestyles.
Searching for a specific need?
Use our mind-building gift finder, enter 0 in the price field (for free products), enter a keyword or two, and then click the search icon.
Additional Free Online Learning Resources
This growing list of online learning resources offers a wealth of educational activities for students. Please note that not all of the companies/products listed here have been approved by Academics' Choice.
Pixton EDU is a web-app that gives teachers and students a unique way to create stories, demonstrate learning, and enhance writing assignments - in any subject - through digital comics. Pixton EDU is free for 30 days during the COVID-19/coronavirus pandemic.
Whether you are seeking creative and exploratory experiments or early learning academic workshops, Learning Resources' tools makes at-home learning easier for teachers and families. As Academics' Choice Alumni, we are proud to present these resources for all children, no matter their age or grade level.
Carddies are creative colouring sets for children. Puzzle out these free printable brain games!
Districts, schools, educators and families impacted by health-related closures can access Peekapak's entire platform for free. This will allow schools to provide lessons, at-home activities and interactive learning games for all affected families with children between Pre-K to 5th grade. Our resources promote literacy skills while helping families remain calm and practice social-emotional learning skills like self-regulation, empathy, and perseverance.
CriticalThinking.com offers free PreK-12+ educational e-books, printables, and online games. Their approach is unique: help kids develop foundational reasoning & critical thinking skills while learning the core subjects (reading, writing, math, science, and social studies).
Educational Insights is providing families with thousands of FREE printable activities, worksheets, crafts and DIY ideas that spark children's curiosity and helps keep their education moving in the right direction during this difficult time. The educational toy company has also partnered with Mensa for Kids to provide even more valuable resources to support learning through play in areas such as STEM, reading and creativity.
Music Education. Pop Culture Inspiration. We believe in the power of music to change lives. Our technology and culturally relevant content makes it easy to implement a fun and effective music program! 30-Day Free Trial!
News-O-Matic is the Daily News Just for Kids! It publishes a brand new edition every weekday, 52 weeks -- even holidays and over the summer. Each article is written at multiple levels for readers of all abilities, from Kindergarten through Grade 8. Free access for teachers, parents, and children through June 30!
At Teachley, we're passionate about helping children learn math while having FUN! Kids playing our iPad games use addition strategies to help the Addimals stop an evil villain; build bridges with multiplication; or race their car in a futuristic 3D world while learning about fractions. Created by teachers, our iPad games are proven to improve math skills across grades K-5 and promote flexible thinking. Used in thousands of schools, the games are backed by learning sciences research and funded by the U.S. Dept. of Education, National Science Foundation, and National Institutes of Health. Teachley EDU is now FREE for the rest of the 2020 school year.
Whether you're looking to equip your home, office, or classroom, SupplyMe has you covered! Find ideas and crafts for specific lessons or ages and lots of free printable activities!
The Imagine Neighborhood features 15-minute episodes full of fun stories with zany characters that help kids and their grown-ups learn how to help build their emotional intelligence, build relationships with empathy, and solve problems. Listeners can download episodes for free on Apple Podcasts, Spotify, Google Play and Stitcher, or anywhere podcasts are found.