Educational Gifts Kids Will Actually LOVE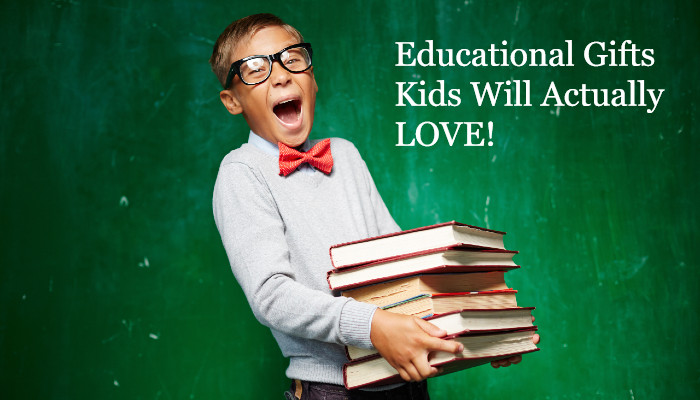 When it feels like play — and learning is happening — that's the sweet spot.
We hand-picked the following award-winning products that our review teams loved and kids actually used repeatedly with a smile on their faces. This curated list of fun, parent and teacher-tested, educational products is designed to make your shopping easier and your children smarter.
Academics' Choice™ helps educators and parents find the best brain-boosting material on the market. We
evaluate products
based on educational benefits such as higher-order thinking skills, character building, creative play, durability and originality.
Discover teacher and kid-approved games, toys, apps, books, magazines, learning platforms, and more!
KIBO - The Screen-Free STEAM Robot Kit


Ages: 4 - 7
Price: $149.99

KinderLab Robotics is the creator of KIBO, the playful and creative STEAM coding robot kit. KIBO lets young learners, ages 4 to 7, create, design, decorate and bring their own robot to life with screen-free, hands-on programmable robotics.


Tynker


Ages: 5 - 17
Price: $10.00/month (Now 30% Off!)

Tynker is the #1 online and mobile coding platform in the world for kids and teens to learn computer programming. Over 60 million kids have learned the basics of coding in a fun and intuitive way through Tynker as they develop apps, build games, program robots and drones, and mod Minecraft.


beanz Magazine


Ages: 8 - 12
Price: $6/issue or $29.99/year

beanz Magazine is an award-winning print + online magazine. It's the perfect gift for kids who want to learn about coding, computer science, and how we use tech in our daily lives. It's hands on, quirky, and fun.


The Storymatic Kids!


Ages: 5 & up
Price: $29.95

Six gazillion stories in one little box. Which one will you tell? No wires. No screens. No batteries. Just pick a few of the cards and watch a story take shape before your eyes. How you tell it is up to you. Write it, draw it, act it, sing it!


The Reading Game


Ages: 4 & up
Price: $34.95

These fast paced memory card word games with accompanying picture flashcards and content-rich storybooks can help ANY child learn to read without frustration. The staged learning format first teaches individual words, followed by short phrases and sentences, and then graduates to a full-length storybook.


Kids Against Maturity


Ages: 10 & up
Price: $29.99

Are your kids bored with Apples to Apples and too young for Cards Against Humanity? Kids Against Maturity fills that empty gap with age-appropriate toilet humor for the whole family to enjoy. It brings the family together for a massively fun game that will have kids and adults alike rolling with laughter.


Proof!


Ages: 9 & up
Price: $14.99

Proof! is a fast, fun, and addicting math game that the whole family can enjoy! Work that mental math magic as you race to find creative equations hidden among nine number cards.


Chroma Cube


Ages: 7 & up
Price: $20.00

Chroma Cube is a brand new color deduction game, and while the 12 wooden cubes may look innocent enough while sitting in their tray, figuring out what cube belongs in which spot can be quite the challenge. Try to decipher the cryptic clues on any of the 25 puzzle cards that accompany this set to deduce how the colors should be arranged!


Learning Cube


Ages: 18 months & up
Price: $29.99

An interactive and educational preschool toy for the little one. Stimulate your child to a whole new way of learning the alphabet, numbers, colors, songs for the alphabet, numbers and colors, entertaining animal sounds, instrument sounds, and lovely music!


Action-Stackers Big Builder Set


Ages: 3 - 8
Price: $39.99

With new connectors that allow children to build in new directions, and wheels that allow movement, this set is both fun and educational! Build multiple creations at once, guide included. Great for stacking, sorting, counting, small motor skills and hours of endless imaginative play! No batteries required!


Repeating Crossbow


Ages: 9 - 12
Price: $33.00 USD/mo. Subscription | Also available individually

In Tinkerer's Explore box Repeating Crossbow, you'll construct your own crossbow by following the graphic instructions. Shoot at the targets and compete against your friends. Learn about the history of the crossbow, how the crossbow stores kinetic energy and how lever systems work.


Geometiles™


Ages: 6 & up
Price: $85.00

Geometiles, a fun, yet sophisticated tool that aims to spark an interest and lifelong love of math in kids in grades one through 12. Geometiles is a versatile set of interlocking tiles which helps children discover mathematical concepts through hands-on exploration and play.


Magic Adventures Globe™


Ages: 5 & up
Price: $79.99

Young explorers can travel the world and see everything in it with the Magic Adventures Globe™. Using the stylus, children can tap on the 10" interactive learning globe and experience new places, languages, cultures, animals, geography, habitats and more through high-quality BBC videos.


100 Animals Book™


Ages: 18+ months
Price: $17.99

Hold 100 animals in your hands with the touch-sensitive pages of the 100 Animals Book™! Six double-sided, interactive pages feature animals from 12 habitats and environments.


This Is Play


Ages: 0 - 3
Price: $30.00

Slow down, tune in, and discover the very purposeful play of infants and toddlers. With its spot-on ideas and delightful anecdotes, you'll gain a new appreciation for infants' and toddlers' competence and curiosity and how important your role is in the birth-to-3 adventure.


Making and Tinkering With STEM


Ages: 3 - 8
Price: $25.00

A fun, accessible approach to the maker movement! With 25 classroom-ready engineering design challenges inspired by children's favorite books, educators can seamlessly integrate making and tinkering and STEM concepts (science, technology, engineering, and mathematics) in preschool through third grade classrooms.


Serious Fun


Ages: 3 - 6
Price: $28.00

Children's natural curiosity and dynamic imaginations can lead to exciting and meaningful learning opportunities. Discover how to provide guided play experiences along with opportunities for unstructured play to support children's knowledge in key areas and their lifelong enjoyment of learning.


Ranger Rick Zoodinos


Ages: 5 & up
Price: $6.99

Sink your teeth into tons of bone-crushing facts about Tyrannosaurus Rex and other animals with Zoodinos. The book includes a wealth of information on anatomy, habits, habitat, and nesting theories, and in addition offers a fictional story, fun poetry, and entertaining activities--all richly illustrated in full color.


Where's the Math?


Ages: 3 - 6
Price: $25.00

Make math learning both meaningful and fun by building on children's natural curiosity to help them grow into confident problem solvers and investigators of math concepts. With 20 activities based on new and classic children's books, games, and classroom routines, challenge children in preschool and kindergarten to think more complexly about the math in everything they see, hear, and do.


Big Questions for Young Minds


Ages: 3 - 6
Price: $30.00

Learn how to weave high-level questions into your day-to-day teaching practices. Packed with hands-on guidance for scaffolding children's learning and promoting a deeper understanding in a variety of contexts, this is a critical resource for early childhood professionals working with children ages 3 through 6.


Vooks


Ages: 6 mo. - 8 years
Price: $4.99/month (Get 1 Month Free!)

Vooks is the only video platform dedicated to creating and streaming animated children's storybooks. By adding movement and sound to original storybook art, they create a new piece of online content that's more than a children's book, more than a digital short, and more than a video. It's an entirely new way to tell stories!


Kidomi


Ages: 3 - 8
Price: $7.99 per month ($59.99 annually)

Kidomi is an all-inclusive mobile app that delivers thousands of hours of learning entertainment with the best mix of kids' digital play from some of the world's top family brands. Kidomi features puzzles to solve, adventures to read, inventions to build, creations to make, games to play and new activities to discover every day.


LeapFrog Academy™


Ages: 3 - 6
Price: $7.99/month (Get 2 Months Free!)

LeapFrog Academy™ is an interactive learning program that kids they can play anywhere. Learning Adventures cover curriculum for preschool through first grade and include activities such as math, reading and science along with problem solving, creativity and social-emotional skills.


News-O-Matic


Ages: 6 - 14
Price: $34.99 for yearly subscription

News-O-Matic is the Daily News Just for Kids! It publishes a brand new edition every weekday, 52 weeks -- even holidays and over the summer. Each article is written at multiple levels for readers of all abilities. Whether kids love sports, science, politics, or arts, News-O-Matic delivers the world's top stories. It strives to inspire students and empower them to become lifelong learners, critical thinkers, and global citizens.


Pinna


Ages: 3 - 12
Price: $7.99/month (Get 1 Month Free!)

Pinna is an audio-first children's media company offering the first and only ad-free, audio on-demand streaming service that delivers breakthrough, original audio programming curated and created for kids that includes podcasts, music and audiobooks.


As an Amazon Associate we earn from qualifying purchases.