Academics' Choice Award™ Winner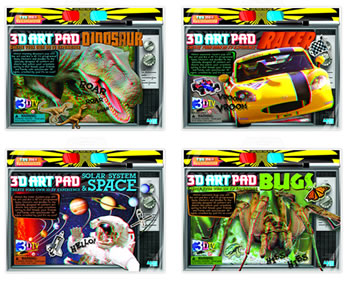 3D Art Pad Series
Ages: 5 and up
Price: $10.00-11.00
Type: Arts & Crafts
By
4M Industrial Development Limited
Description
See stunning bugs, racers, solar system or dinosaurs pop off the TV screen and printed art pad, and create your very own 3D creations with the magic 3D art pad sheet and stickers. Amaze your friends and family with your own 3D TV creations and posters!
Review Highlights:
My 6 year old son loved this product! Right after we received it, he grabbed the pen, put on the 3-D glasses and went for it! He spent an hour drawing space ships and alien ships all over the booklet. If your child is tired of coloring books and looking for something a little different, I'd pick up a copy of the 3D Art Pad Solar System & Space.
3D Art Pad was an awesome product for my son! Who took the pad, the pen, and the glasses, went over to the desk and drew for an hour. Over several days he had filled every single page with his own creations in space. He was truly proud of them and we loved to hear his stories about exactly what was going on in outer space on his retro TV.
This 3D kit was a fun activity for my 6 year old. He thought the 3-D aspect was very cool! I liked the quality of the pages.
Buy this product at:
4M Industrial Development Limited
As an Amazon Associate we earn from qualifying purchases.