Academics' Choice Award™ Winner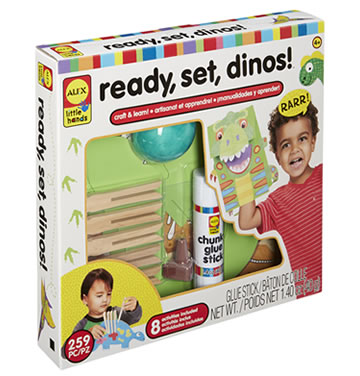 ALEX Toys Little Hands Ready, Set, Dinos
Ages: 4 and up
Price: $25.00
Type: Arts & Crafts
By
Alex Brands
Description
ALEX Toys Little Hands Ready, Set, Dinos is a fun and interactive way to learn about our favorite creatures from the Jurassic era. With 8 arts and crafts projects your little one can travel back to a time when dinosaurs ruled the earth. Decorate and wear a pair of foam dino feet, make a T-Tex paper bag puppet, hatch a baby dinosaur from an egg, rub fossils into an archaeologists dig, decorate and fly a foam Pterodactyl, make a clothespin Stegosaurus, create a T-Rex skeleton out of fossils and walk an Apatosaurus finger puppet. Includes 34 Printed paper board shapes, 2 EVA shapes, printed paper shapes, 3 printed activity pages, 209 stickers, Glue stick, rubbing plate, 1 Finger crayon, 5 wooden clothes pins, acrylic pom pom, paper bag and Fun Fact instructions. Recommended for children 4 years of age and older.


Review Highlights:
The boys worked on following directions, colors, and learning facts about dinosaurs. Cooperation and teamwork were also learned. Fine motor skills were needed in placing the stickers and visual perception in trying to copy the models. After the projects were built, they were used in creative play as well.
I liked how everything was included and there were clear picture instructions for how to put each craft together. It was easy enough that my 4 year old son could do the crafts with some help from his 8 year old brother--who could figure out what to do with the pictures. My 8 year old was able to work on the projects without help and found them enjoyable. It was a great way to keep younger siblings busy while working with older kids. None of the projects took very long, which is great for short attention spans, and the finished products all had play value after they were made. None of them ended up just stuck on the fridge to be looked at, they were all played with after they were built.
I think this is perfect for the 6-9 age group alone or the 4-6 age group with a little help. The finished product didn't look exactly like the samples, but my boys were very proud of their different dinosaurs! And my older son quickly learned some of the facts. We ended up cutting out the words from the instructions and taping them on the back of each project so I could read it over and over to them.
Buy this product at:
As an Amazon Associate we earn from qualifying purchases.