Academics' Choice Award™ Winner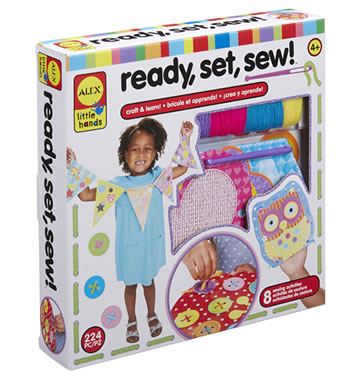 ALEX Toys Little Hands Ready Set Sew
Ages: 4 and up
Price: $18.50
Type: Arts & Crafts
By
Alex Brands
Description
ALEX Toys Little Hands Ready Set Sew makes any time stitchin' time! This 224 piece set teaches kids the basics of sewing. Using a needle to stitch together pieces of paper and paperboard they can complete 8 projects while building confidence, honing skills and having fun. Includes 15 pre-punched paperboard pieces, 5 pre-punched paper shapes, 174 stickers, chunky needle, 29 pieces of pre-cut acrylic yarn in 7 colors (24in. each) and easy instructions. Recommended for children 4 years of age and older.


Review Highlights:
The ALEX Toys Little Hands Ready Set Sew set focuses on sewing skills, which relies on fine motor skills. We have always loved making fun activities that focus on fine motor skills, since they are so important for young children to learn. In this box of fun activities are stickers, lacing cards, and sewing projects. Children can also learn about colors and shapes.
The ALEX Toys Little Hands Ready Set Sew set was perfect for my 5 and 6 year olds. They have some beginner experience sewing on plastic canvas and on fabric in an embroidery hoop, but I felt like this set was perfect for children around their age because it teaches the basics of sewing, but on cardboard. Cardboard is stiff and won't slip out of your hand like fabric can. It helps little children learn how to lace with ease, which leads to being able to sew more easily. This set had lots of different activities in it, from decorating a triangle flag banner to decorating a lady bug with sew on buttons. The set came with enough materials for a handful of different activities and each activity was individually bagged, which keeps it more organized and makes it easier to find what you need. Both of my kids gave this set a thumbs up.
My children loved creating the crafts.
Buy this product at:
As an Amazon Associate we earn from qualifying purchases.