Academics' Choice Award™ Winner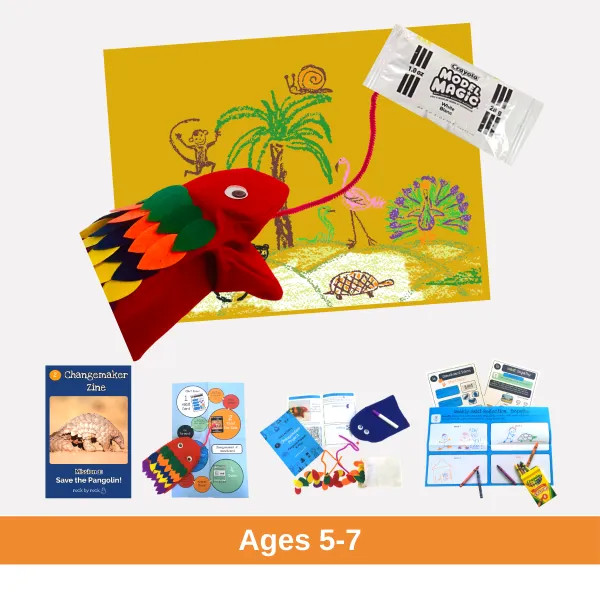 Changemaker Jr.
Ages: 5 - 7
Price: $24.99
Type: Arts & Crafts, Game, Book, Toy
By
Rock by Rock
Description
We believe kids are capable of more than most people give them credit for. Many learning experiences for kids are step by step recipes.

Our goal at Rock by Rock is to challenge the status quo and provide fun, hands-on projects that build character, solve a real-world problem, builds skills to help kids thrive in the future and provides everything you need to complete the project in one box.

Changemaker Jr boxes can be purchased as a stand-alone box or as part of a monthly subscription. Each box helps kids build empathy for an endangered species and save an endangered species.

Boxes have several benefits:
Active engagement: Fun ways to think critically and solve a real-world problem.
Character Growth: Fosters research-based character traits that help kids thrive now and in the future.
Empowerment & Giving Back: Promotes a sense of collective responsibility & builds kids' agency and confidence to make change.
Integrated: Each box includes art, reading, writing, social studies and science.
Creative engagement: Projects engage kids to think creatively and provide materials to create in different ways.
Self-direction: Projects are self-directed, allowing kids to learn while parents work.
Offline: Gets kids offline and engaging in hands-on learning.


Review Highlights:
There are a lot of subscription boxes for kids on the market. This one is more than just a craft. It teaches kids about social responsibility and how they can impact the world. I love the all-in-one nature of a creative box. It teaches and develops empathy, science, social studies, creativity, art and social responsibility. The box contains a magazine (booklet), mission map, and activities, along with the instructions and materials for a hands-on craft project. We like that, in addition to that, it contained ideas or what they call a "take action project" for what kids/families can do in the real world to address issues.
Rock by Rock has created an engaging, fun way for kids ages 5-7 to practice science, social studies, character-building, empathy, and general creativity in their "Changemaker Jr" kit. My own kids really loved diving into the hands-on-activities that made an endangered species "come to life". It was fun to watch how my kids interacted with a previously unknown animal and its backstory.
The Changemaker Jr. is appealing to my educator heart with its connections to the Habits of Mind and the general sense of learning targets that accompanied the materials in the box. There was a QR code for a video link as well as plenty of paper-pencil activities. This was a learning activity that more than one kid can enjoy, if sharing of materials happens. The activity took a few "sessions" with my kids and the reading had to be spread out a bit. The tools and materials that come packaged with the box are high-quality and I appreciate this as repeated uses are desirable for crayons, scissors, etc. My kids enjoyed learning about a new animal. There was plenty to discuss for activating the "feelings" of protecting wildlife and even how to engage in civics to extend this thinking (i.e. how could law-makers help this animal?"). What a fun idea for learning and being more open-minded! I will definitely recommend the Changemaker Jr!
The Changemaker not only creatively entertains my nephews, but keeps them educationally engaged too! These projects empower them and have given them confidence in their ability to make a difference. Each project has an artistic and informative approach, teaching them how they can be involved in problem-solving a real issue while having fun. My nephews like to share their ideas on how to fix the issue-at-hand with one another, and can do these on their own, allowing me to work from home on my computer nearby when I take care of them. I love how it has step-by-step directions so they can take initiative while practicing their reading and writing skills, and it's a great alternative to reduce their screen time.
It's a creative way for my nephews to learn how to make a difference.
Buy this product at:
As an Amazon Associate we earn from qualifying purchases.