Academics' Choice Award™ Winner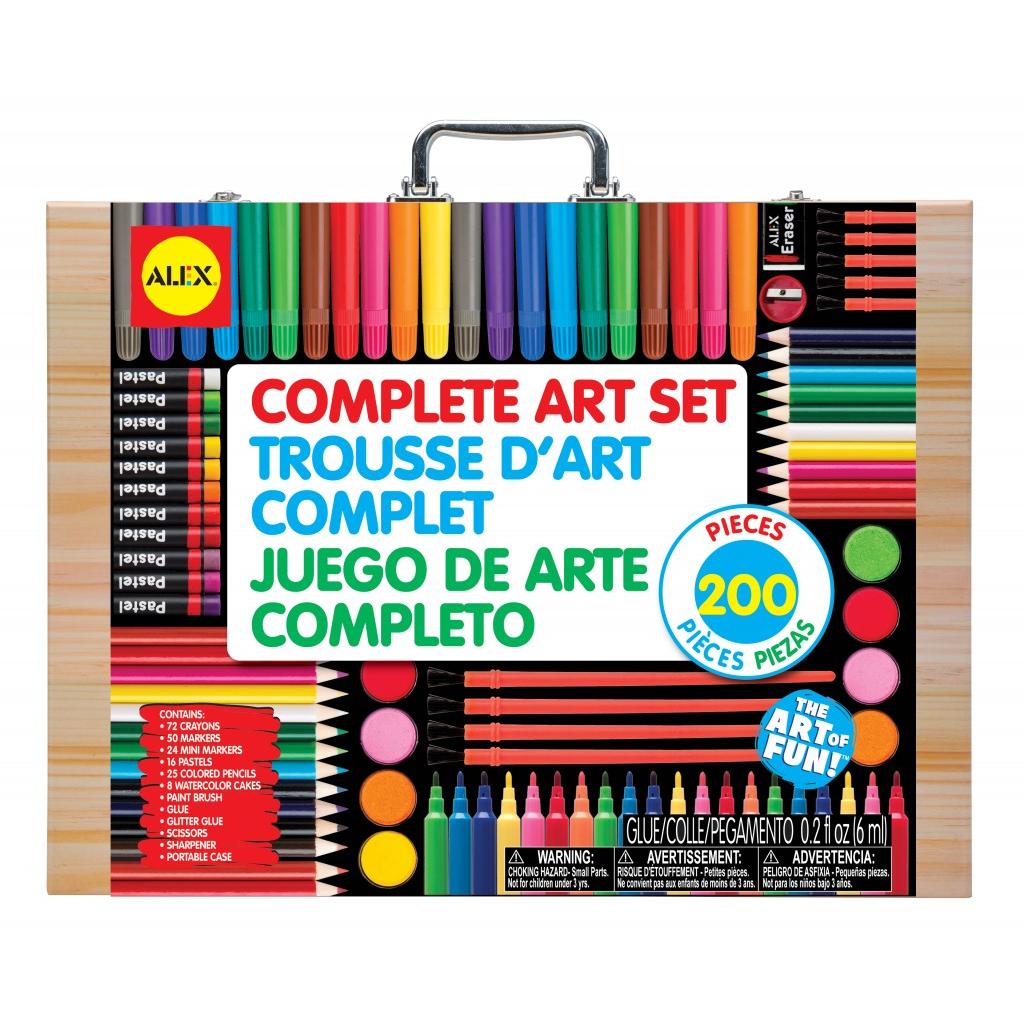 Complete Art Set
Ages: 3 and up
Price: $62.99
Type: Arts & Crafts, Toy
By
Alex Brands
Description
ALEX Toys Artist Studio Complete Art Set is a giant case packed with everything your mini-Michelangelo needs to create colorful masterpieces. Whether they're starting out with a coloring book or a blank page, the finished artwork will be something they can hang with pride. 200 piece set Recommended for children 3 years of age and older.

•Includes 200 pieces: 72 crayons, 50 markers, 24 mini markers, 16 pastels, 24 colored pencils, 8 watercolor cakes, 2 paint brushes, glue (1.25 oz.), glitter glue (0.27 oz.), scissors, sharpener in a
•14 in. x 19 in. x 2 in.
•Faux wood finished carry case.
•Perfect for the young artists home studio or for art classes
Review Highlights:
I liked that the set was LARGE!! There was definitely enough stuff to go around and for everyone to be happy. I loved the amount of colors and supplies. My younger child used the crayons more whereas my middle child preferred the markers and my oldest tended to be more drawn to the colored pencils and pastels. The product is great for a family with a variety of ages. I loved that there were 200 pieces in such a compact case. Great for taking to appointments and transporting in the car.
Obviously, with three kiddos wanting to use this art set they had to learn patience, sharing, and cooperation. One of my kiddos is a perfectionist and so she did not want colors mixed or the paper torn off of the crayons. I did not allow my youngest to use the pastels. I explained why and she was okay. I told her that pastels are for kids a bit older than her. All three of my kiddos sat and drew pictures and shared the set items.
We loved all of the diverse colors in the set. We also really liked how many choices of tools we had. The carrying case is durable and looks nice as well. My boys were so impressed when they saw the front box of the art set! I'm not sure they've ever seen so many colored pens, pencils, watercolors and crayons in one set. They couldn't wait to get started. I grabbed a stack of paper and let them go! My 5 year old must have tried every drawing utensil in the set! Both boys were engaged for more than hour! That's a lot to say for 5 year old boys!
Buy this product at:
As an Amazon Associate we earn from qualifying purchases.