Academics' Choice Award™ Winner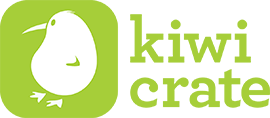 Kiwi Crate subscription
Ages: 3 - 7
Price: $19.95/month
Type: Arts & Crafts
By
Kiwi Crate
Description
Kiwi Crate is a monthly subscription service for kids. We deliver fun and engaging hands-on arts, crafts and science projects right to your door. Kiwi Crate's award-winning projects are perfect for kids ages 3-7 and designed to encourage creativity, exploration and discovery.
Review Highlights:
The kiwi crate that we received was very easy to put together. As a busy mother, I enjoyed all the precut materials and the extra scissors and markers in the box. It was well organized and all I had to do was lay out the project and sit back and enjoy my kid's creative work. The spinning tops were fascinating to my kids and helped them to understand more of the color spectrum and how secondary colors are made. The finished projects were proudly displayed and replayed with by their visiting friends. I especially like Kiwi Crate's subscription service. Being able to receive one of these little boxes on my doorstep every month is a perfect and simple gift for busy families to help their children learn through creativity.
We received one of Kiwi Crates - Arts and Crafts kits and loved everything about it! This was the first time reviewing their kits and was very impressed with the overall concept. Children learn in many different ways, and I felt that this kit really hit all the learning styles! I was also able to go beyond the kit and show them videos on Antarctica and was able to teach them where penguins live and what they eat. There is a lot that can be done and explored while using this kit and we really enjoyed the opportunity to get create while learning so many things too! I would highly recommend this product!
Buy this product at:
As an Amazon Associate we earn from qualifying purchases.