Academics' Choice Award™ Winner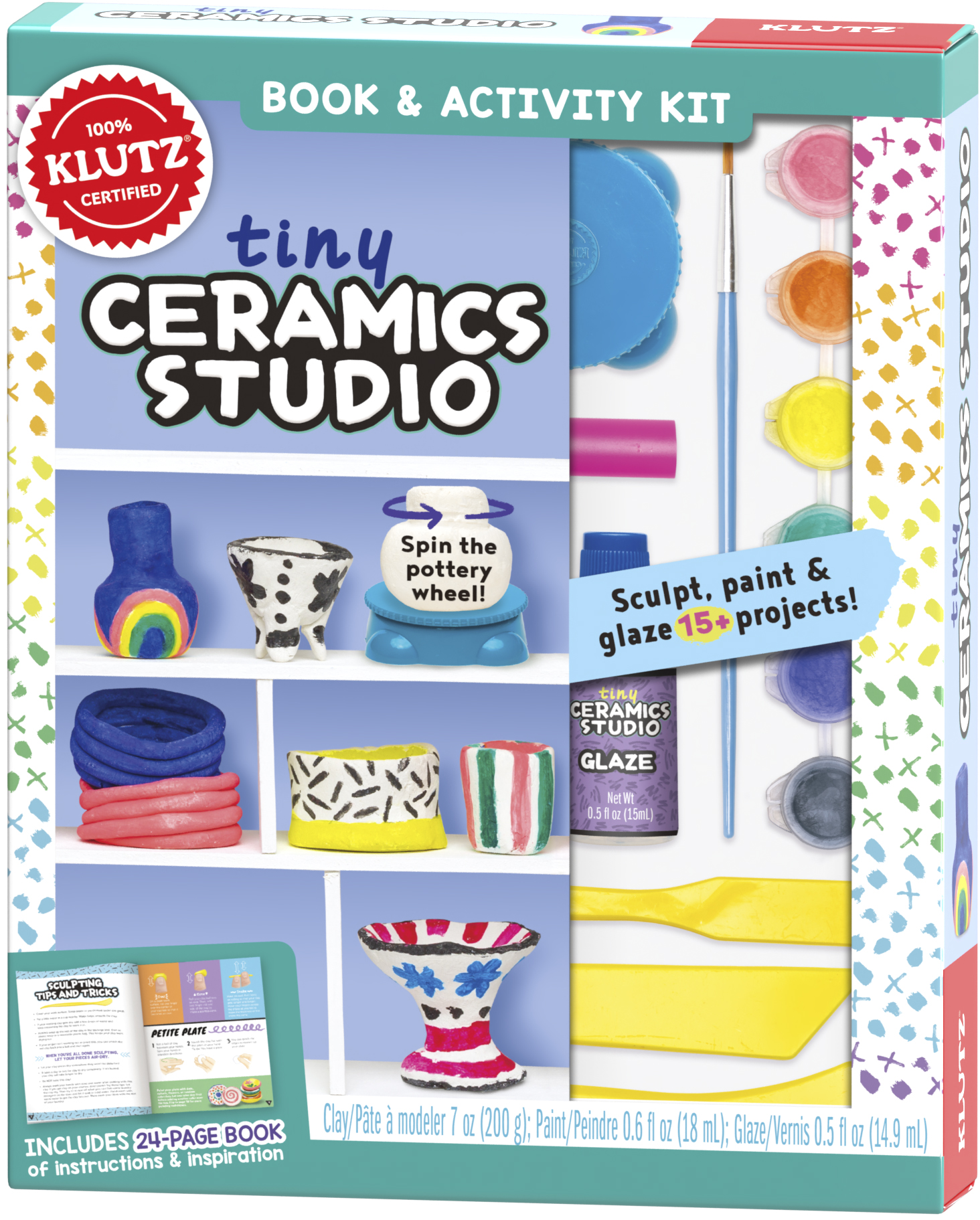 Klutz: Tiny Ceramics Studio
Ages: 8 - 12
Price: $19.99
Type: Arts & Crafts
By
Scholastic
Description
An entire pottery workshop is inside this kit--wheel included! Learn hand-building techniques with clay using a turntable and miniature bowl molds. Let your creations air-dry, then paint them with vivid colors. Finally, glaze your pots, plates, bowls, and vases with clear glaze to get that artisanal finish.










Review Highlights:
The kit comes with everything kids need to get started right away designing and creating their own projects. Their handiwork can be used as gifts for friends and family or used creatively for themselves. Kids can choose to make multiple items with this kit as long as they plan carefully and make good use of their materials. The kit allows kids to make something that they can feel proud of at the end of their creative time, something that they will want to keep.
Kids can be true self-starters with this pottery kit. They need little to no parental supervision. Their work will enable them to make a craft in which they can truly take pride. They may even choose to gift their creations to friends and family. Kids will have an opportunity to experiment with some of the methods of a true artist with the small pottery wheel and the glaze to cover their finished projects. The kit includes directions for a variety of methods of pottery so kids can experiment with their favorite look and project.
This craft kit has everything to get started with clay-making, including tiny bowl molds, a small turntable, glaze, a paintbrush, paint, a booklet with instructions, and of course, clay. Children will love feeling like they have their own small ceramic studio with this kit, forming their own artistic creations like miniature vases or bowls. After the clay air dries, children can paint designs onto their ceramic pieces and finish them with a glaze. This is a great activity for young children who enjoy hands-on projects.
The freedom to create! The idea book offers guidelines but the child has the freedom to make whatever they want. My 8 and 6 year old children LOVED this project! They created their own bowls and vases; making 4 "mini" creations with only one kit! This makes an excellent show-and-tell project for our co-op.
Children practice creativity, decision-making, deductive reasoning, planning, imaginative thinking, problem-solving, resourcefulness, design, formation, crafting, manufacturing, handiwork, sculpting, painting, and ceramics.
Buy this product at:
As an Amazon Associate we earn from qualifying purchases.