Academics' Choice Award™ Winner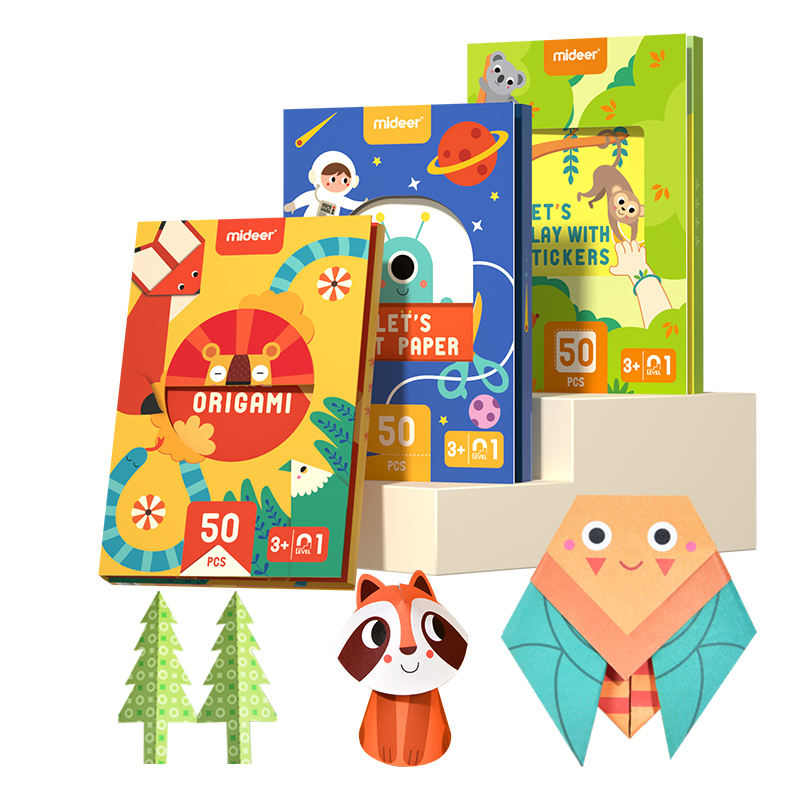 Level Up Paper Crafts Activity
Ages: 2 and up
Price: $6.50
Type: Arts & Crafts, Toy
By
Ningbo Mideer Toys Co., Ltd.
Description
A manual set of stickers, paper cuts and origami designed according to the advanced scientific system. Children can start with simple pasting, cutting and folding, practice according to the difficulty stars, and gradually improve the fine movements of their hands, so as to comprehensively exercise children's eye, hand and brain development and imagination. It can also recognize things and learn daily knowledge through the picture changes and playing methods of each manual shape. It is very suitable for parents to play with their children and enhance parent-child emotion. Soybean ink printing, safe and non irritating.


Review Highlights:
My four year old has been requesting more art projects lately, so we got her this origami set to try out. I wasn't sure if it'd be too hard for her, but this set is perfect for her starting out. It comes with cute, colorful pieces with easy instructions for her to follow along. Perfect activity to keep little ones entertained, especially in Fall or Winter when the weather isn't the best. She likes to do this when her cousins come over too.
This is a great activity for young children who have an interest for art. The Let's Cut Paper kit teaches children how to use scissors safely and allows them to practice following directions in a creative way, which is an important skill for any child. Children can follow along easy instructions to cut interesting shapes and develop their fine motor skills.
I liked how the product gives you three levels of difficulty for your child to progress. I also appreciated the questions they provided to ask your child during and after each of the activities. The "guideline" provided was helpful because it gives the child a starting spot to begin cutting.
Children practice safety skills (scissor use), creative thinking, following instructions, dexterity, fine motor skills, eye-hand coordination, and communication.
Buy this product at:
As an Amazon Associate we earn from qualifying purchases.