Academics' Choice Award™ Winner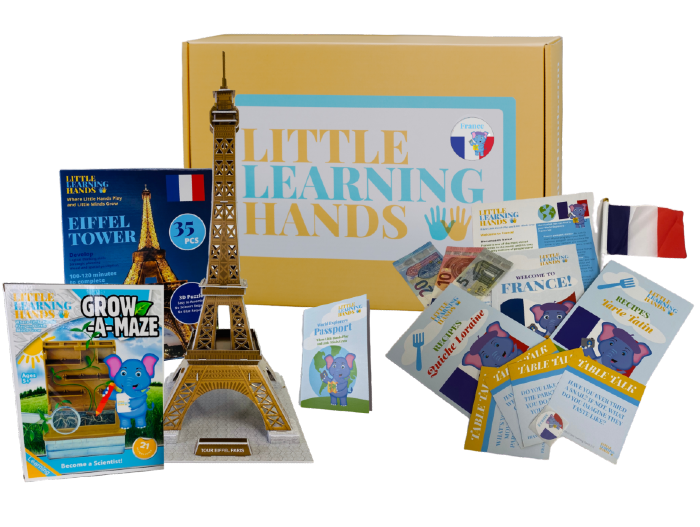 Little Learning Hands World Explorers Subscription Box
Ages: 6 - 12
Price: $29.95
Type: Arts & Crafts, Game, Book, Toy
By
Little Learning Hands
Description
Little Learning Hands World Explorers is the only kids subscription box that blends hands-on learning activities, life skills building and global awareness. Each box is packed with hands-on, screen-free, STEM/STEAM activities, crafts, science projects, recipes, souvenirs and fun fact booklets to teach your child through play. Great as a gift, rainy day activity, after school supplemental activity or homeschool curriculum activity.

Each box includes a 3D puzzle, a 2nd activity (arts and crafts, science experiments, others that build life skills), a booklet full of fun facts and learning, 2 recipe cards, 4 table talk cards for whole family fun, sticker, flag, play money to mark off the exploration of a new country. In addition the welcome kit features a scratch off map of the world, a passport and a backpack to accompany the child throughout the journey of exploration.

A new and innovative way of looking at education through play. It combines and manages to achieve bringing two important goals of teaching life skills and bringing global awareness into children's lives - topics that are extremely relevant these days: schools do not teach home economics the way they did in the past and diversity and inclusion is something we want kids to learn about at a young age. Additionally - these boxes are packed with activities and provide a great value for the subscriber.


Review Highlights:
World Explorers is first-rate interdisciplinary learning kit full of fun country and cultural facts, a passport, flag, 3d puzzles, recipes, scatch off map, and more. Each subscription box covers a different country: France, China, Germany, Mexico, Brazil, Egypt, Japan, Italy, India and more! There was lots for my little world explorers to learn, discuss, and create. Bonus: each kit can be easily shared among siblings.
I think families will appreciate that there are things in the kit that kids can do alone and things that can be done together as a family. I felt like the materials were unique, yet cohesive. There is something for everyone in the kit. If you have a child who likes to cook, the recipes are super fun. If you have a child who likes puzzles, the globe is amazing and fun to put together. If you have a kid who likes trivia, the fun facts are engaging. I also like that kids are learning about geography through other disciplines like reading, cooking, etc. I also really liked the packaging. You can tell time was taken to put it together. There was a lot of thought and care in assembling the components.
There really is a lot of information packed into this kit. It will be a kit that takes more than a day to go through. It will also be something that encourages kids to ask questions and work with a guardian to fully enjoy. Which I like. I like that it can be done alone, but you can tell it is designed for families in mind.
Children practice and learn problem solving (puzzles), math and measuring (recipes), social studies (whole kit), crafts, reading, and much more!
Buy this product at:
As an Amazon Associate we earn from qualifying purchases.