Academics' Choice Award™ Winner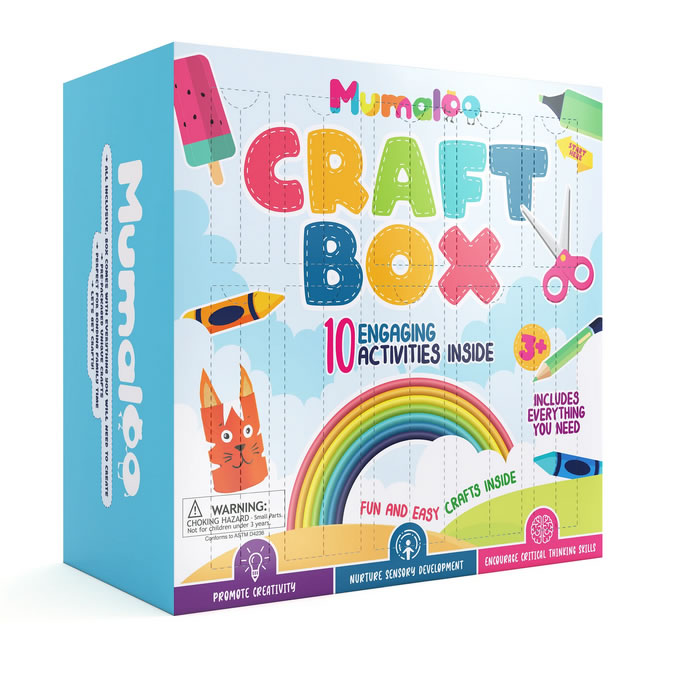 Mumaloo Craft Box
Ages: 3 - 7
Price: $29.99
Type: Arts & Crafts
By
Mumaloo
Description
We are here to provide pre-packaged arts and crafts, that come with ALL necessary materials and a set of easy to follow instructions. Our boxes are perfect toddlers, preschoolers, and elementary aged kids, but are really fun for the whole family. These kits will save you time scouring the internet for age appropriate crafts, and save you time combing the aisles of craft stores in search of that perfect set of googly eyes. We are a one stop shop for arts and crafts, providing you with the idea, the materials, and the instructions. For kids who are able to read, they can use our easy to follow instructions themselves. Take a break from the screens, and come create with us, where crafts and family bonding time are our top priorities

In each box you will find 10 amazing activities and crafts that:
- Engage Your Child
- Promote Creativity
- Nurture Sensory Development
- Encourage Critical Thinking Skills


Review Highlights:
This craft box contained so many neat little crafts, and was 100% age appropriate. It would make a great incentive tool, a fabulous gift, or just a fun rainy day project. I can't recommend it enough. I've been buying kids' craft kits for two decades and this is the best I've seen!
This product foremost fosters creativity. Children will get to hone their fine-motor skills while creating colorful mini-art projects. To make their creation, they will also need to follow directions and practice problem solving skills. Older kids will be able to complete the projects with little supervision, while under 5 year olds will occasionally need help from an adult or older child.
I love how the Mumaloo Craft Box contains various 8 craft mini-projects, each in its own, easy to open compartment. It is the perfect quick-craft for the "bored" kid who "wants to do something fun". Nothing is too messy and everything you need is contained in the compartments.
I liked that the Craft Box included everything needed to complete the crafts. I also really appreciated the surprise element. Being able to punch a hole, and pull out a new craft each day made for a fun and enjoyable experience for my son. The projects are well-thought out, and easy to create. They are colorful, bright, and cute. This is a really fun product! Even my nine-year-old son thoroughly enjoyed this box!
This product was so much more than I expected. Well-planned, and well-executed for maximum fun!
The problem with most craft kits? The box springs open and forty pom pom balls, two bottles of glitter, and a host of other doodads are immediately scattered on the table with no purpose. This ingenious box functions like a craft calendar-- open one door and reveal one craft, perfectly packaged and ready to be assembled according to the included, visually descriptive instruction sheet. My kids adore crafts, but this kicked it up to a whole new level of fun!
These crafts are perfect for practicing small motor skills, creativity, basic critical thinking skills, hand eye coordination, and visual spatial skills.
Buy this product at:
As an Amazon Associate we earn from qualifying purchases.