Academics' Choice Award™ Winner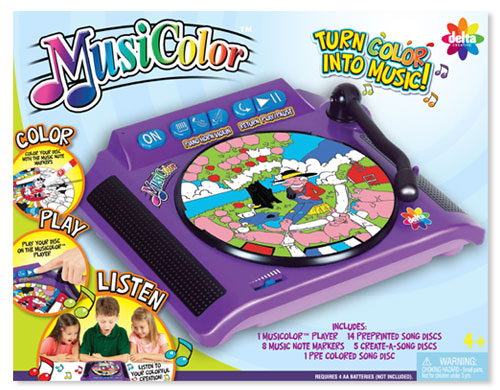 MusiColor
Ages: 4 and up
Price: $39.99
Type: Arts & Crafts
By
Delta Creative
Description
The first coloring activity that turns color into music! Musicolor is a display of innovative technology mixed with a classic coloring activity. The music player unit is modeled after the classic record player, the technology, however, is anything but classic.

The Musicolor music player consists of a rotating base and an arm for reading the music discs, much the same as a DVD player reads a DVD. The arm scans over the colored areas of the music disc rotating on the music player, reads the color and translates it to sound. The player also has three piano, violin and trumpet.

Using the pre-printed coloring discs, simply color in the spaces according to the letter printed in the area, when you are done, the disc will play the song for the scene you have just colored! If you really want to be creative, use the blank song discs and create your own songs from scratch!

The Musicolor set includes 1 Musicolor player, 8 Music Note Markers, 14 preprinted Song Discs, 5 Create-a-Song Discs and 1 pre-colored Song Disc.
Review Highlights:
What a creative way to combine music with arts and crafts... it makes coloring time come alive.
My four-year-old loves to color and has a keen ear like his father, so we tried MusiColor. The day it arrived, they both started coloring their masterpieces. I could practically see their wheels turning as they composed - in color!
For the composer in all of us! This is powerful learning tool, not only do children get to dance, color and compose, but they are developing basic reasoning and listening skills, and letter recognition while they do it. I highly recommend MusiColor.
Buy this product at:
As an Amazon Associate we earn from qualifying purchases.