Academics' Choice Award™ Winner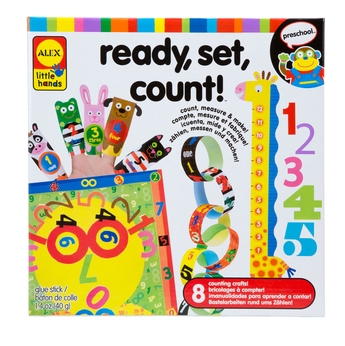 Ready, Set, Count!
Ages: 4 and up
Price: $12.00
Type: Arts & Crafts
By
ALEX Toys
Description
Red, yellow, blue. Collage by color, you don't need glue! A wonderful color recognition activity for toddlers, this set has tons of colored Finger puppet counting friends are as easy as 1-2-3! Learn numbers, counting and easy math concepts with Ready, Set, Count. Each activity is packaged separately so everything is ready to go when you open the kit. Make a giraffe ruler, paper counting chains, adorable finger puppets and a number collage! Includes over 170 stickers and paper shapes, glue stick and activity sheets. Encourage an early love of numbers and counting!
Review Highlights:
This product is a great hands on product for little people becoming familiar with the use of numbers. It offers many activities that make math concrete for preschool age children. The activities are enjoyable for their use of creative expression and play. The bright and colorful look of this product really helps the children's desire to use. My child liked the dog bone activity and the creative use of the dog to feed him bones and count them out to start doing simple math problems. The pizza making activity was another fun project for my child. It was easy to count out the toppings because it was so fun. The number writing practice was less age appropriate due to its very small size, but all other activites were much enjoyed in our household. Ready, Set, Count! offers alot for its price as well and can be used for quite a while getting through 8 number related activities.
Buy this product at:
As an Amazon Associate we earn from qualifying purchases.