Academics' Choice Award™ Winner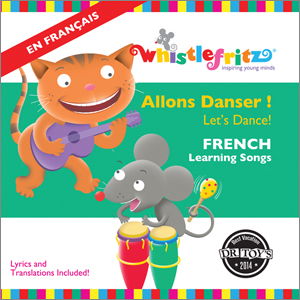 Allons Danser! (Let's Dance!) -- French Learning Songs
Ages: 1 - 8
Price: $14.99
Type: Audio CD
By
Whistlefritz
Description
Allons chanter! (Let's sing!) Allons danser! (Let's dance!) Apprenons le français! (Let's learn French!) Get in the language-learning groove with this fun-filled collection of original tunes and beloved traditional favorites performed by internationally-acclaimed French artists Marie-Louise Desage and Didier Prossaird. From "Bonjour Les Amis" to "Au Revoir", kids and adults will want to dance and sing along to these irresistible rhythms and catchy lyrics that introduce French words and phrases such as numbers ("Un, Deux et Trois"), parts of the body ("La Tête, Les Épaules/Head, Shoulders") and children's favorite topics ("Quand Je Serai Grand/When I'm Big" and "Y'a Pas de Fête Sans Gâteau/It's Not a Party Without Cake.") A rollicking rendition of "Le Vieux MacDonald (Old MacDonald)" puts a French twist on a beloved classic. Take the music and fun along with this French learning CD which makes learning French as easy as un, deux, trois!


Review Highlights:
My child loved the songs. He sat and listened until he heard "Y'a pas de fete sans gateau." This song got him moving! After listening we discussed the lyrics and linked them to a song he was familiar with (Old McDonald). As a veteran homeschooler I really liked the literal, word for word translation of the songs as opposed to the standard, loosely translated phrases that are found in many childrens' CD's available on the market today.
Buy this product at:
As an Amazon Associate we earn from qualifying purchases.