Academics' Choice Award™ Winner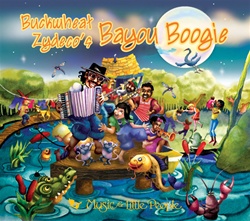 Buckwheat Zydeco's Bayou Boogie
Ages: All Ages
Price: $14.98
Type: Audio CD
By
Musical Kidz DBA Music for Little People
Description
Buckwheat Zydeco, Grammy Award-winning worldwide ambassador of Zydeco music, is throwing a family dance party from the bayou with special guest superstars Laurie Berkner, Dan Zanes, and Maria Muldaur! Smokin' accordion, rockin' Hammond B3 organ, rollicking rub board and sizzling guitar licks join together on this recording to create a musical gumbo of family-friendly Creole culture that can almost be smelled and tasted. The result is a rich tribute to this unique melting pot of American culture. 14 songs designed to introduce children to a fun time on the bayou, including Locomotion, Barefootin' and Hokey Pokey. (ALL AGES)

Tracks:
1- Loop De Loop (Laurie Berkner)
2- Buck's Bayou Intro
3- We're Having A Party
4- Barefootin'
5- The Loco-Motion
6- The Mice Ate My Rice (Maria Muldaur)
7- Ripsy Dipsy (Ripsy Dipsy)
8- Walking The Dog
9- Everything Hurts (Aaron Nigel Smith)
10- Zydeco In Space
11- Twist And Shout (Aaron Nigel Smith)
12- Hokey Pokey (Laurie Berkner, Dan Zanes, Aaron Nigel Smith, Maria Muldaur)
13- The Party's Over
BONUS: There Will Always Be Tomorrow


Review Highlights:
Bayou Boogie is a fantastic kids CD. As an introduction to Zydeco music, my children were moving to the beats right away. Stanley Dural, Jr. (Buckwheat) along with great guests like, Laurie Berkner and Dan Zanes, bring the Zydeco beats to little ears in such an accessible way. Having classics like, "Loop de Loop and Hokey Pokey," in Zydeco style helps out with that familiar enjoyment of songs with a new twist. Creole culture is introduced in such a light, fun, celebratory way. "Mice Ate My Rice" started a conversation about Gumbo in my house. Buckwheat's simple introductions to the songs gave meaning to the sounds that my children heard and offer a starting point to know and learn about Zydeco and where it originates. I whole-heartedly enjoyed this CD. It has been great fun for the entire family!
Buy this product at:
As an Amazon Associate we earn from qualifying purchases.