Academics' Choice Award™ Winner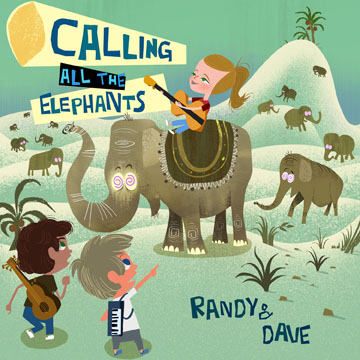 Calling All the Elephants
Ages: 5 - 10
Price: $14.98
Type: Audio CD
By
Song Wizard Records
Description
Randy & Dave started writing some silly songs for kids that morphed into irreverent, over-the-top and laugh-out-loud funny. Funny with a few twists: the explary songwriting and clever use of language; the underlying educational elements such as listening to all the facts before making a decision, girl empowerment, celebrating differences, and fun with numbers.

The combination of Randy's country roots and Dave's children's pop roots and their two vocal styles gives this a wacky, seesaw feel, moving effortlessly between a country stroll where the wry wit of the lyrics sneaks up on you and a rock 'n' roll sprint where an outrageous lyric slams right into you. You have to hear this to believe it.
Review Highlights:
This CD has a lot packed into it. Listening skills for different musical styles and rhythms, lyrics that tell stories, even real life lessons that we are all familiar with. We will listen to this CD again and again and share it with friends. The CD presents a great opportunity to talk about the ideas behind the songs (empowerment, celebrating differences, etc.). It worked really well in our music classroom. Thanks!
I really liked watching my students listen to it. The first song they picked up right away and started filling in the rhyming schemes. They laughed at a lot of the funny lyrics and danced to some of the more upbeat songs. This album is extremely well composed. The songwriting is of high caliber and the uniqueness and creativity of the songs are extremely good and really fun.
Buy this product at:
As an Amazon Associate we earn from qualifying purchases.