Academics' Choice Award™ Winner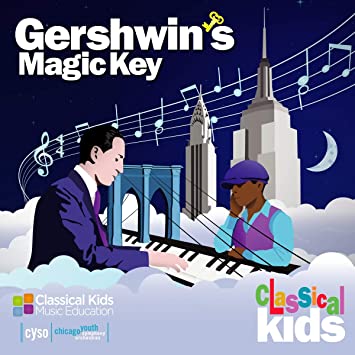 Gershwin's Magic Key
All Ages
Price: $11.99
Type: Audio
By
Classical Kids Music Education
Description
Gershwin's Magic Key is the first new recording release in 20 years from the award-winning Platinum selling Classical Kids Series and is the first-ever educationally entertaining musical story introducing children to the extraordinary life and musical masterpieces of George Gershwin. Step back into 1920's New York City, where a newspaper boy has a chance encounter with George Gershwin as they explore the many sights and sounds of the city. The music is magically woven into a 50-minute story as the characters share anecdotes and observations based on true incidents from the composer's life. The recording features more than two dozen of Gershwin's most popular compositions. Presenting history, drama, music and fun, this engaging musical story is designed to be enjoyed by the entire family.


Review Highlights:
As always, Classical Kids delivers an engaging story that helps familiarize kids with a composer's work. So fun to see a new recording after all these years! One thing I love about a physical CD and really appreciate is the extra bits of learning included in the CD Liner notes. I also think it is fantastic that this recording utilized a youth orchestra ~ which shows kids that they can achieve great things even while they are young. The story was great, and I even learned a few things about Gershwin that I didn't know.
As a homeschooling mother, I loved that this CD introduced a composer in the context of history. This gives even deeper value to the music and background of the composer's life.
This story was engaging, fun, and inviting for all of my kids, ages 13-16. The production was first class, and the plot was compelling. As a homeschooling mother who happens to have four string players involved in the local youth symphony, I absolutely love Classical Kids. My children enjoyed learning more about the composer, and found the story fun and engaging!
Children (and adults) learn music appreciation, history, and practice listening skills.
Buy this product at:
As an Amazon Associate we earn from qualifying purchases.