Academics' Choice Award™ Winner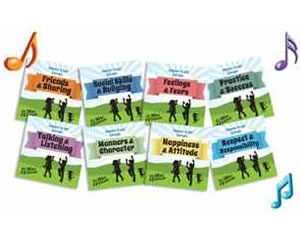 Happiness & Attitude Album
Ages: 5 - 8
Price: $4.99
Type: Audio CD
By
Dr. Mac Productions
Description
Thousands of parents worldwide have learned how fun and helpful it can be to have Happy Kids Songs in their lives. These songs are both highly entertaining and age appropriate—adult quality music, but with words and themes that tap into the most common character, social and emotional challenges confronting kids ages 5-8. The variety of adult and child soloists, children's chorus, and wide range of instruments and styles of music easily hold children's attention, and parents' too.

The latest of 8 award-winning albums, Happiness & Attitude, helps kids with positive thinking, being thankful, handling frustrations, and appreciating changes between closeness and distance. A companion workbook adds a variety of activities for parents and teachers to use, including lyrics, coloring pages, word finds, dot-to-dots, puzzles, and matching games for kids.

Dr. Mac, the songwriter and producer of Happy Kids Songs, is a child psychologist, author, school consultant, lecturer, and songwriter and music director for the PBS hit, Jay Jay the Jet Plane.
Review Highlights:
We really enjoyed "Shake it out and dance." This little dance-pop diddy sounded like something my son was familiar with but yet it was new to him. This sound helped him hold his interest as compared to a slow folk or country song. The lyrics were all positive and offered talking points on the "I can't" syndrome that both kids AND adults run into from time to time! We liked the singers, the synthesizers, and electric guitars that were layered in the second chorus. The songs were well written, mixed and produced. Nice work, Dr. Mac!
We liked the overall energy of the 5 song collection. The songs were all upbeat with fun rhythms and happy children singing. My boy loved it!
Buy this product at:
As an Amazon Associate we earn from qualifying purchases.