Academics' Choice Award™ Winner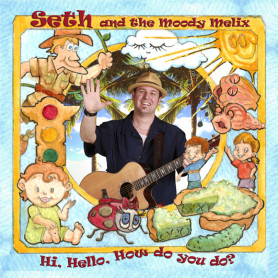 Seth and the Moody Melix; Hi, Hello, How do you do?
Ages: 0 - 12
Price: $9.99
Type: Audio CD
By
Pickle Pie Productions
Description
"Hi, Hello, How do you do?" is a fun, educational and heart-warming children's CD that parents will enjoy as much as their children. The original songs cover topics such as: Character Education, The world around us, Healthy Living and Social/Peer interaction.
Review Highlights:
This a fantastic album for young children that aims to develop a love for music and learning. These well written songs address important issues such as bullying, healthy living, and teamwork. Respect, honesty, fairness and patience are also important character traits that Seth sings about in his fun, organic, upbeat music. Well done!
Seth has a nice voice. The band is great and the songs are well written. Pickle Pie (the song) is really fun and the tempo change is what does it!
Really fun songs! This was a wonderful collection of songs for elementary school students.
Buy this product at:
As an Amazon Associate we earn from qualifying purchases.