Academics' Choice Award™ Winner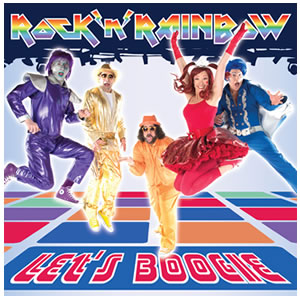 Let's Boogie
Ages: 5 - 8
Price: $14.99
Type: Audio CD
By
Rock'n'Rainbow
Description
Let's Boogie! is a dazzling "call to action" – a family dance party of high energy tunes with catchy lyrics and funk-rock rhythms.

Dedicated to active living, this debut album from popular Canadian children's band Rock'n'Rainbow celebrates fantastic forms of exercise: biking, heading out on scooters,and boogying-on-down.

Says Mike Whitla (Rock'n'Rainbow's "Purple Stardust"), "We've all seen technology overtaking our day-to-day lives, and, as a longtime music educator and a dad, I felt a need to respond to this. Let's Boogie! is designed to encourage healthy habits, active lifestyles, and lots of personal interaction within our family groups, while also having a barrel of fun. From the energetic rhythms of the album's title track to the exuberantly adventurous 'I Like To Ride My Bike' to our updates on activities like the classic tag game 'The Freeze' and 'The Hokey Pokey,' we want to suggest that everyone put down their phones and dance together!"
Review Highlights:
This is a fun CD that covers healthy habits, counting, the senses, social interactions and just moving the body to the beat. The songs are very well written and fun to dance to. Think about a subtle mixture of funk, folk and prog rock and you get Mike Whitla's new band, Rock n' Rainbow. Kids from 0-8 will be singing, jumping and dancing to this wonderful array of infectious grooves.
Buy this product at:
As an Amazon Associate we earn from qualifying purchases.