Academics' Choice Award™ Winner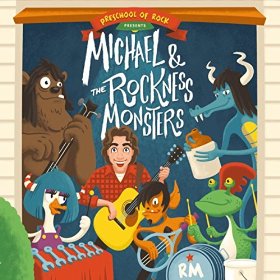 Michael and the Rockness Monsters
Ages: 2 - 9
Price: $9.99
Type: Audio
By
Preschool of Rock
Description
Michael Napolitano started his musical lifestyle at an early age of 3 when placed lovingly behind his father's drum set. The son of a touring musician, a huge influence on Michael's path came from his roots. From his years as a musician performing and touring with various artists to his 10 years with Blue Man Group, and now with 8 years behind him with his own award winning Preschool of Rock, Michael has developed a unique style influenced by his own family and life experiences and of course his deep love for music. With the creation and release of Michael and the Rockness Monsters, the father of two begins the next step of his impressive musical career.

Review Highlights:
My kindergartner liked the CD but I think would have enjoyed it more last year. As we listened to the CD he'd periodically tell me what he thought. He said the Pirate Song was "okay," the Rock It song was "pretty good," and "Farm Dream was the best on the CD." I think he liked the faster rockin' parts the most. I recommend this CD to any parent with a preschooler. It was fun to listen to and easy to sing along with.
Buy this product at:
michaelandtherocknessmonsters.com
As an Amazon Associate we earn from qualifying purchases.