Academics' Choice Award™ Winner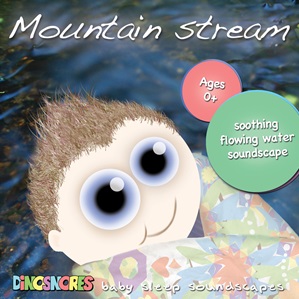 Mountain Stream
Ages: 0 - 36 months
Price: $14.95
Type: Audio CD
By
Dinosnores
Description
A mountain stream bubbles gently as it flows. A soft, reassuring voice speaks to your baby:

Eyes closed.
Be still.
It's sleep time.

Dinosnores' Mountain Stream CD is a baby sleep soundscape that just has to be a part of your parenting toolkit. Designed to help your baby settle and sleep well at night, Mountain Stream provides a steady and relaxing background soundscape while speaking to your baby in simple, soothing tones. Mountain Stream has been produced by child language development experts to help build your baby's listening and language skills.

Sherene Alfreds, speech pathologist and the founder of Dinosnores says, "We designed the language of our baby sleep soundscapes specifically with babies' listening and language development in mind. Current research shows that babies recognize their mother tongue even before birth, and they continue to soak up language at an amazing rate as babies and infants."
Review Highlights:
We were fortunate enough to review "Kitten" on the last round for Academics' Choice so we were excited to review "Mountain Stream." My boys have been listening to "Kitten" every night for the past few months so this CD was a nice change. Beginning with the sound of a stream then listening to the woman's beautiful, soft voice with the Australian accent over the top of it was very relaxing. The first night they listened for about 30 minutes, then were asleep. The second night, it wasn't more than 10 minutes before they were out cold. I pushed play on the CD before I left their room for the night, tonight. Thank you for making this CD!
Buy this product at:
As an Amazon Associate we earn from qualifying purchases.