Academics' Choice Award™ Winner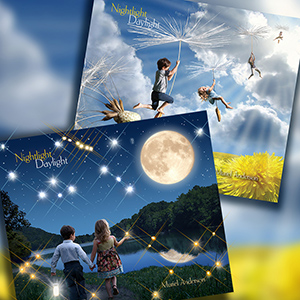 Nightlight Daylight
Ages: 2 - 8
Price: $35.00
Type: Audio CD
By
Muriel Anderson
Description
Nightlight Daylight Double CD: One to go to sleep to, one to awaken to.

First ever interactive lighted cover: Press the moon and the stars & fireflies light up, flicker, then there is a shooting star!

Music has intention... and to feel a musical tapestry whose intention of love, healing and wellness is embedded in the DNA of the music is increasingly important in our world. While children are enjoying the CDs, they won't even notice that woven seamlessly into the music is use of the golden mean, the ancient A432 tuning, or complex meters that feel perfectly calming and joyous. It's the "Mozart Effect" taken to a new level, with music that's just as fun for adults to listen to over and over.

What started as a gift for a friend's first baby has became a calming yet intellectually stimulating experience for child and parent alike. 2 CDs, 30 tunes in all, for anyone who needs beautiful music to go to sleep to and optimistic music to awaken to. Some have called it musical "first aid"...for the body and the soul.

Joined by a stunning cast of world-class artists and Nashville Symphony's live string orchestra, the production is flawless. The packaging is ground-breaking not only in that it's the first to use interactive fiber optics but once the shrinkwrap is removed you're greeted by two front covers (one for each CD) designed by brilliant photo-artist Bryan Allen.

Review Highlights:
This is a top notch work of art. Just looking at the players alone when I first opened the CD spelled out the level of skill, craftsmanship and production value for what I was about to hear. What an all star team to be working with! The CD starts out with some gentle fingerpicking to help sooth a young one into a dreamy sleep. This opener is mellow but not slow and boring. It is tinged with sweet steel string swells and softly sung melodies. Lullaby for Leo caught my ear with its sweet opening and mood. The strings gently support the wandering melody line of the nylon string guitar. I enoyed hearing Wooten take the front seat about half way through the song on bass. I'm not sure there's any thing that man can't do on the bass. The Hawaiian Lullaby also caught my ear. It had a nice swing to the rhythm and the vocals were soft and sweet. This first CD has an overall sweet and gentle vibe that any little one would fall asleep to.
The second CD, Daylight, begins with a classic tune, Here Comes the Sun. I skipped to the 3rd song with Stanley Jordan. This song features Stanley, Wooten, and vocalist Murial Anderson. I just loved the groove and swelling vocal lines. A little time was left in the middle for Stanley to do his thing and he kept tasty, not to cluttered, but just touched with a few sweet runs and a few notes a bit outside, just enough to catch the ear. Needless to say, brilliant. Tracy's Tune was quite memorable as well. Lots of well placed percussion. The mix on both CD's is top notch! Overall, I recommend this CD to anyone who is looking for a children's music CD that values mood, sensitivity, thoughtfulness and precision. Two big thumbs up!
Buy this product at:
As an Amazon Associate we earn from qualifying purchases.