Academics' Choice Award™ Winner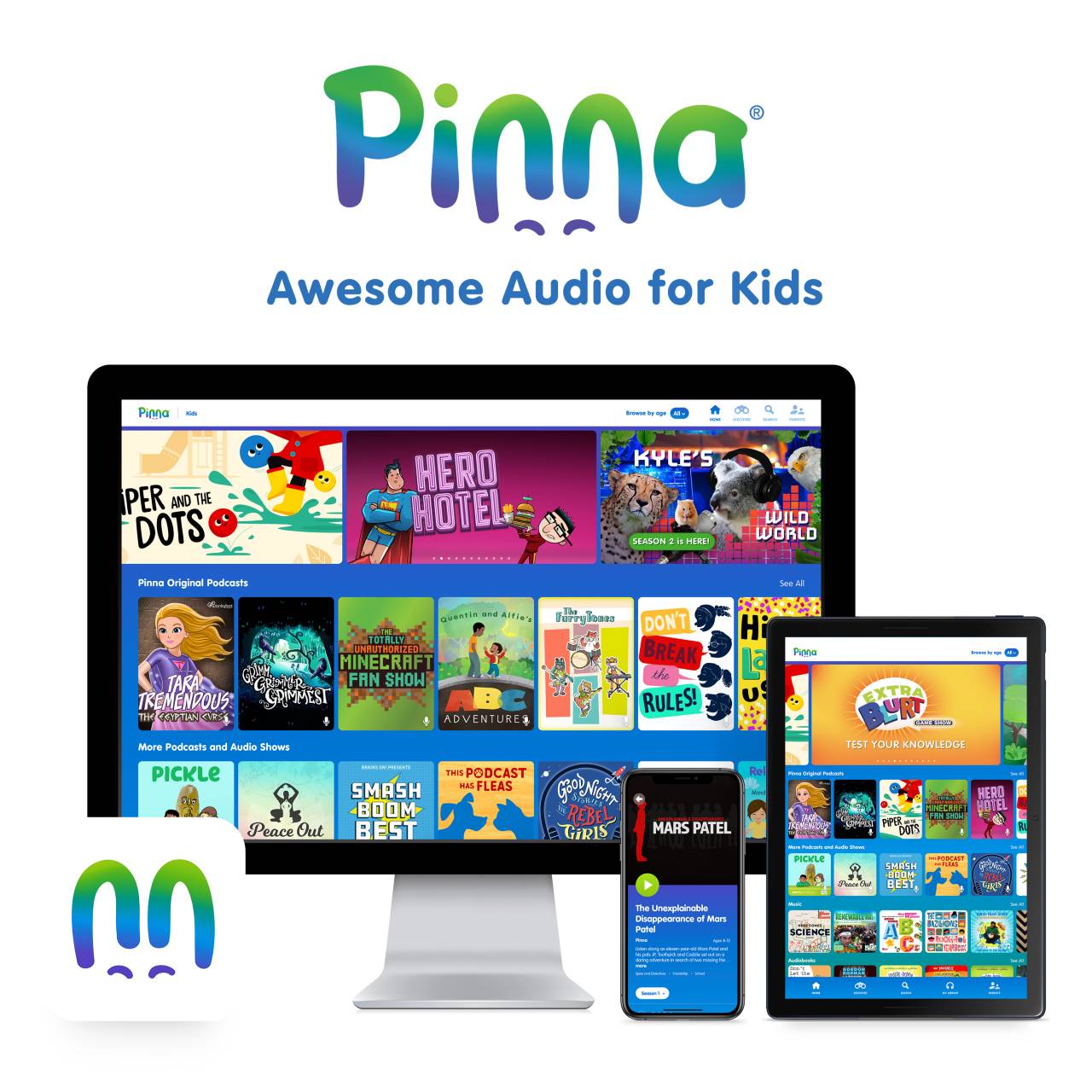 Pinna
Ages: 3 - 12
Price: $7.99/month or $79.99/year | 30-Day Free Trial!
Type: Audio, Website, App
By
Pinna, LLC
Description
Pinna is an audio-first children's media company offering the first and only ad-free, audio on-demand streaming service that delivers breakthrough, original audio programming curated and created for kids 3-12 that includes podcasts, music and audiobooks. With the goal of activating kids' imaginations, Pinna creates and produces award-winning original content as well as partners with the best-in-class brands and top creative talent worldwide to deliver innovative audio programming to entertain and educate kids throughout the day.

From topics and subject matter that interest kids and supports learning (art, drama, mindfulness, meditation, mystery, science, financial literacy, ELA, grade appropriate trivia, interactive game shows, and more), Pinna has thousands of hours of programming to pique the interest of every kid.

With a focus on nurturing active listening, multiple podcasts have been designed with inherent interactivity at the heart of the listening experience that encourage kids to create art along with the host & art teacher, blurt out questions to game-show style segments, test their knowledge with daily trivia, debate, meditate, giggle, move, puzzle and participate.

Childhood education and development experts have been instrumental in the development of Pinna Originals and every Pinna Original podcast goes through a rigorous kid-testing process helmed by expert researchers during a pilot phase. Pinna puts immense work into locking in viable kid-approved concepts before greenlighting full productions. All decisions are made with the target listener in mind and families and teachers can be assured that content is age-appropriate, safe and entertaining for kids.

Pinna Original podcasts, as well as the extensive audiobook and music collection, are a go-to resource to augment subjects being taught in the classroom or help enhance the learning experience across subject domains. Plus, with a growing collection of expertly developed teacher resources, lesson plans, activities, and more mapped to National Common Core standards, it's easy to integrate Pinna into any curriculum.

The benefit of regularly listening to audio has been well documented with studies showing that this format is a strong compliment to all learning tracks. Not only do audiobooks challenge students to use their imaginations, but they have shown to increase reading accuracy by 52% and comprehension by 76% according to a research conducted by Western Downs Libraries.

Moreover, listening to podcasts and audiobooks builds numerous important skills that support literacy and learning across the curriculum including building phonological awareness, vocabulary and comprehension skills, prior knowledge and strong listening skills. And, for kids who have difficulty reading, listening to podcasts and audiobooks can make learning easier. Per a recent article in We Are Teachers, "Audiobooks allow students to hear explicit sounds of letters and letter patterns that form words. Audiobooks also help students engage in text and gain exposure to more words, ultimately improving vocabulary, comprehension and critical thinking skills."

Pinna is currently listened to in 133 countries, and counting, and has to date acquired audio programming from around the world that reflects this global listening audience to ensure a diverse representation of all kids.


Review Highlights:
I love using Pinna as a positive resource during our daily commute with my son. We did the free trial for thirty days, but he loved it so much we kept it. It's well worth the price as it keeps him entertained and engaged as we make the thirty minute trek to school. It's full of podcasts and audiobooks rich in learning that we can both listen to in the car and enjoy. We like to talk about the books he's listening to and it's ad-free which is a bonus! I feel a lot better letting him explore this app on his own knowing it's safe, commercial free, and age appropriate.
Pinna is a wonderful new platform for kids ages 3-12 to plug in and be taken away by the engaging and enriching content available on the app. This app is perfect for a teacher or parent to let their child choose which story or podcast they'd like to explore. All content is age appropriate so there is no need to worry about inappropriate topics or concepts. My favorite part of the app is the ability to download lesson plans that coincide with the podcast. Great idea! I look forward to seeing even more listening choices. Excellent streaming service, great job Pinna!
I'm now running a flipped online classroom where students are introduced to content at home first and then we practice working through it at school via Google Classroom and Google Meet. I used Volcanoes from National Geographic Kids with my students to introduce various topics (magma, solid/liquid/gas, etc.). The kids loved it as the audio lesson was relatively short and engaging and didn't require even more screen time. It was quite clear that for once all of my students actually listened to and learned the concepts! I will definitely be exploring Pinna for more lessons. And once we return to a regular physical classroom I plan to offer it as a reward prize and/or for students who finish early.
I liked the accompanying lesson plans the most. It really sets it apart from Learning Ally.
Pinna is an excellent service for parents trying to reduce screen time. With audiobooks, podcasts, and songs kids tend to use their imagination more than video and really focus. I love that all the content is educational, wholesome and positive for young minds.
Skills practiced or learned include active listening, verbal comprehenstion, and linguistic expression. Vocabulary is developed and a wide variety of academic subjects can be learned. I really loved that you can search for the audio content by grade!
Buy this product at:
As an Amazon Associate we earn from qualifying purchases.