Academics' Choice Award™ Winner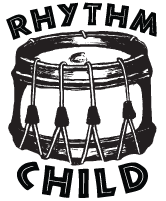 Say It & Play It
Ages: 4 - 7
Price: $12.95
Type: Audio CD
By
The Rhythm Child Network
Description
Say It & Play It - Learning Rhythm Patterns Through Call & Response Interaction. This CD is the 1st in a series of Rhythm Child Play-A-Long Beats where children can learn & engage with REMO Endorsed Drum Circle Facilitator Norm Jones. It is divided into 8 individual lessons that teach fun rhythm patterns by using simple word phrases and 8 corresponding percussion jams that allow for user practice, improvisation and creativity. The CD includes over 30 minutes of instruction and 25 minutes of interactive drumming.
Review Highlights:
We loved this cd! Whether or not you are a beginner or intermediate drummer, this cd will help you develop your rhythmic skills. Adults and children alike will have a good time singin and tapping along. Many drums are introduced throughout the 16 songs, from the Nigerian talking drum to the Native American Drum to the Dumbek from the Middle east. This well produced CD is not only great for getting your groove on, but for teaching music appreciation as well.
I recommend you buy this cd if you have an up and coming little drummer boy! Our favorite was #15, "My teacher wants to help me learn!"
Norm Jones makes drumming for children simple. The only prerequisite is good listening skills and and an attentive child. With 30 minutes of instruction and 25 minutes of drumming on a single CD, even the beginner adult can just push play and learn along with their child/student.
Buy this product at:
As an Amazon Associate we earn from qualifying purchases.