Academics' Choice Award™ Winner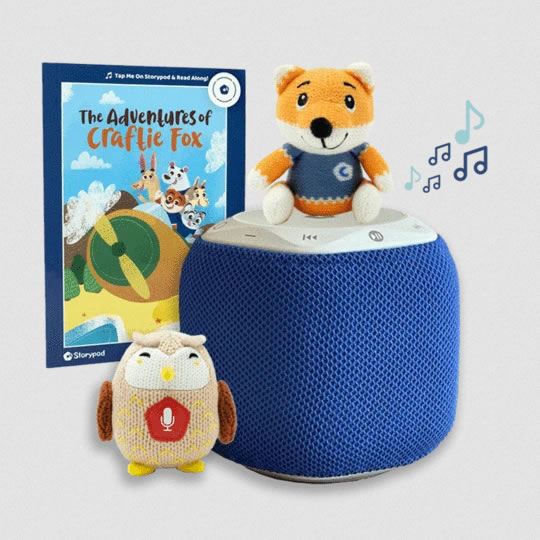 Storypod Starter Set
Ages: 3 and up
Price: $99.99
Type: Audio, Book, Game, Gear & Equipment
By
Craftie Fox, Inc.
Description
Storypod is a screenless edutainment platform that engages children by way of immersive storytelling and unique audio experiences. Unlock and ignite children's imaginations through a magical 360 degree sound speaker that leads kids on adventures, as they playfully listen and learn from original and classical stories, songs and rhymes enabled by a charming cast of "Craftie" yarn companions, books, and trivia cards. Each brings the speaker to life when placed on top of the Storypod, introducing a world of various auditory topics! Available in English and Spanish, children can expand their cognitive thinking skills through less screen time and more spoken word story time. Storypod stimulates cognition and creativity with interactive buttons that reveal captivating activities like choose your own adventure, memory games, trivia questions and trigger special effects that bolster the entertainment factor and strengthen comprehension skills for developing minds.


Review Highlights:
The books and stories are so much more than an author reading a story - there are music, sound effects, and educational facts tucked throughout the stories. As an early childhood educator, I fell in love with this toy for so many reasons. The developing skills learned -the language and literacy, music and rhyme, independence and self-help skills, the creative dramatic play, and cognitive and critical thinking skills, make this a very versatile learning toy. Kids do not even know they are learning. They play games and have fun; it is an excellent balance between toys, education, and technology. The app on the adult's phone allows control over the technology while allowing the child to explore and learn freely. I look forward to adding more Crafties and books to our Storypod.
The Storypod has an easy setup; it walks you through step by step. I love that Storypod fosters independence. It puts the child in control of music and stories; all offered in a child-friendly package. The kids can push buttons and discover how to make things happen independently, while the adult has control through the app on their phone. The Storypod has an impressive sound quality controlled on the Storypod and by the parent-controlled phone app. The removable soft yarn toys "Crafties" that activate different songs and stories are also enjoyed as non-technology dramatic play objects. The Crafties become the pieces children can recreate the stories they heard on the Storypod or create their own imaginative stories and play.
The iCrafie allows for distanced families to be connected. Family can record books, messages, or music through the phone app. Then when the iCraftie is placed on the Storypod, they can hear the voice of their loved one. A fun, cute way of connecting families who may not be together. As an early childhood educator, I appreciate the Storypod screen-less technology concept and optional educational emails you receive about screen time and children's brain development. I am always telling parents about the adverse effects screens have on a developing brain. Storypod highlights the product pros through researched-based evidence.
I love that it is an interactive toy and can be used with children from basically birth through childhood. Quality product and very well made. A lot of variety of options for play.
Language and literacy, music and rhyme, independence and self-help skills, creative dramatic play, imagination, listening, counting, STEM Learning, movement, colors, and cognitive and critical thinking skills were all learned and practiced using Storypod.
Buy this product at:
As an Amazon Associate we earn from qualifying purchases.