Academics' Choice Award™ Winner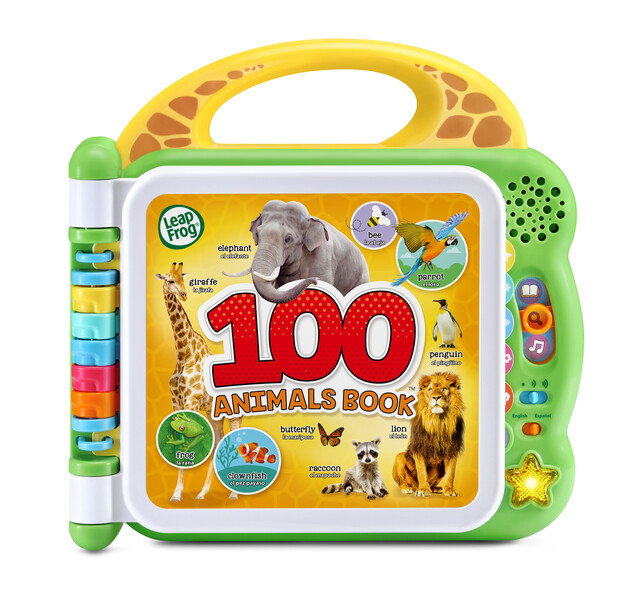 100 Animals Book™
Ages: 18+ months
Price: $17.99
Type: Book, Electronics, Toy, Audio
By
LeapFrog
Description
Hold 100 animals in your hands with the touch-sensitive pages of the 100 Animals Book™! Six double-sided, interactive pages feature animals from 12 habitats and environments. Kids have a natural curiosity about animals, and this book provides lots of opportunities for exploration with illustrations and photographs of animals from the desert, savanna, rain forest and more. Three modes teach about animal names, animal sounds and fun facts on each page. Switch the language setting to hear about the animals and listen to songs in either English or Spanish. Fun facts about animals promote early science awareness, making this book a must-have addition to every little learner's library.


Review Highlights:
The 100 Animals Book™ teaches pre reading skills, listening, speech skills, animal groups, animal names and sounds in different environments, in both English and Spanish.
I liked that this product was bilingual. When learning a new language, it is best to start young and I like that there was an option to learn the names of each animal in Spanish. I like that there was a variety of animals and 3 different activities for each page. It also helped strengthen hand muscles by having to push each animal. It is also great for a range of ages, which is nice and worth getting since it will last a while.
I bought the child I nanny for this as a birthday present this year. He is always so excited to learn about new animals, so I thought this would be a great way to teach him. Inside the 100 Animals Book from LeapFrog, there are pictures and the names of animals you'd find in all different areas of the world such as the rainforest or savanna, or even at home as a pet. Not only does it state the animals in English, but it provides the Spanish word for it as well which his bilingual parents were happy about. (This is great practice for me as a nanny as I'd like to become fully bilingual). You can press on each animal picture to hear the noise it makes, or select a different mode to learn about fun facts. It includes songs which we sing and dance along to that teach you about the animals, so this is a great bonus for all of the music-loving kids.
I love that this product is bilingual and has many options, as far as listening to animal facts, hearing their sounds or fun songs. My soon-to-be 3 year old loves this toy!
I liked everything about it.
Buy this product at:
As an Amazon Associate we earn from qualifying purchases.