Academics' Choice Award™ Winner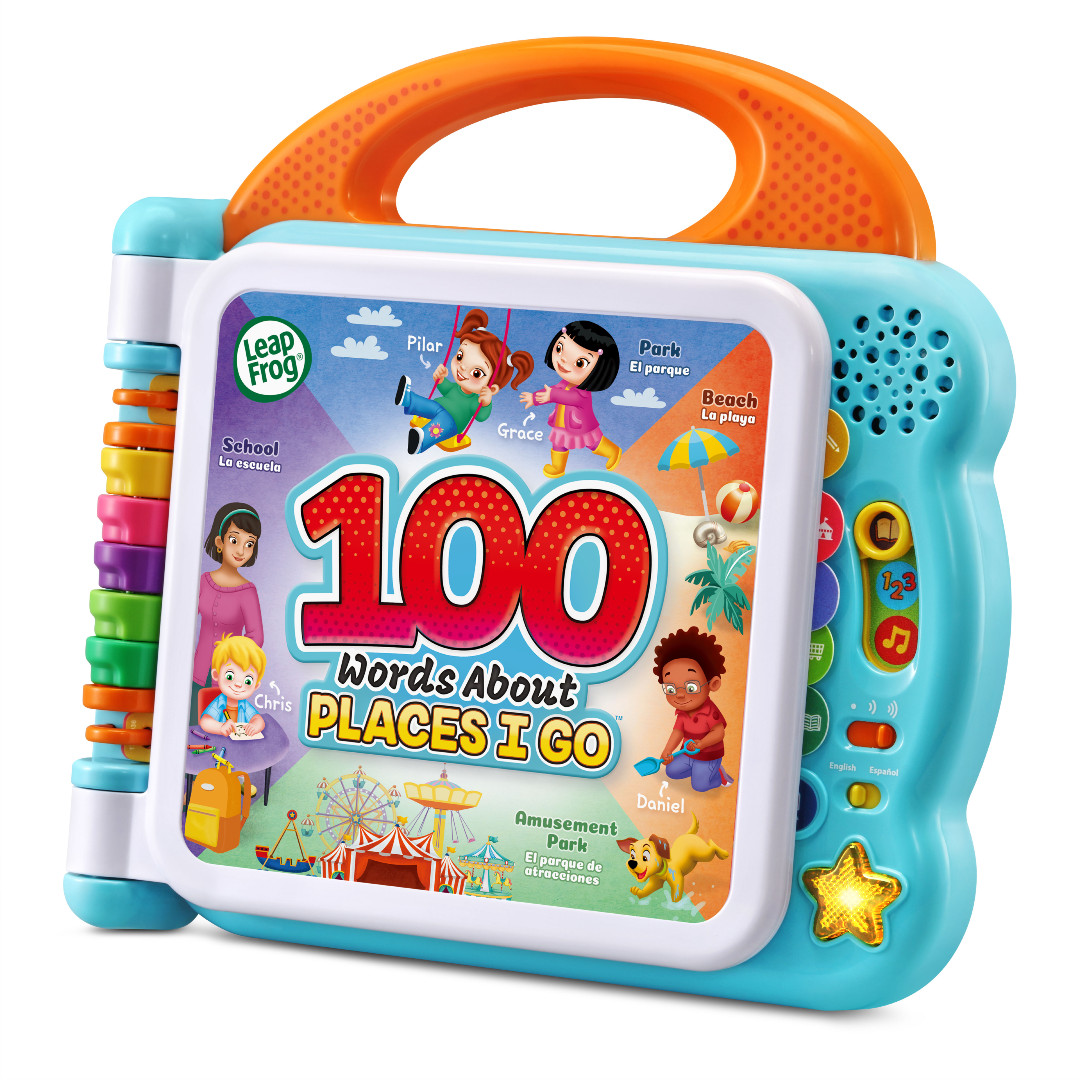 100 Words About Places I Go™
Ages: 18+ months
Price: $19.99
Type: Book, Electronics, Toy, Audio
By
LeapFrog
Description
Explore words about places kids love with the 100 Words About Places I Go™ bilingual learning book! Featuring age-appropriate words, this interactive book teaches about people and objects in 12 unique places in both English and Spanish. Go to the beach in any season and discover words in two languages about things to bring and surprises to find. The school, the park, the farm, the amusement park and more locations can light up your child's world and spur their imagination. Ten touch-sensitive locations on each page teach about words, colors and counting in the context of 12 unique places. Inspire toddlers and preschoolers who are ready to go places!


Review Highlights:
100 words About Places I Go is a great learning tool! It is ready to play out of the box. The buttons are big, and little fingers can easily switch and toggle the sliders. A HUGE benefit of the 100 Words book is how sturdy this is. The pages are light enough to feel like pages but can clearly withstand tugs, pulls, spills, smudgy fingers, and less-than-careful handling. LeapFrog is known for its appeal to both moms and kids, and 100 Words About Places I Go does not disappoint!
100 Words About Places I Go helps teach kids (and toddlers 18 months and up) about the vocabulary surrounding familiar places. This interactive book also teaches Spanish vocabulary. Fun songs and sound effects help keep kids engaged. Children learn vocabulary (100 words), colors, counting, reading, speaking, interacting, communication, music comprehension, visual, touch, even foreign language, as one can learn all in Spanish as well!
I liked that the product had more than one language. It was fun to listen to the words in English and then choose Spanish to hear the word in that language. It was a great way to work on vocabulary by pointing and learning new words. It really enhances speech skills by hearing the word and then copying the word. I also like that we could change the settings to music, ABC (words), and math.
100 Words About Places I Go is a fun learning tool that is sturdy and engaging. I would highly recommend this to other parents of toddlers and preschoolers. As a Speech-Language Pathologist, I am adding this tool to my library of fun ways to teach vocabulary. There are fun songs and sound effects that help engage kids with the book. I like the games that are included, early counting skills and answering questions help give this book more options. English-language learners are easily engaged by hearing vocabulary in Spanish and English, allowing more opportunities for modeling of language. The book is sturdy and interactive touch areas are activated easily with light and heavy touches. This is a fantastic toy for all toddlers and preschoolers!
This is a interactive and sturdy book that's perfect for little hands. Right our of the box, it is a delight to entertain your toddler. Colorful with smooth edges, it is nice to hold and touch. You can choose English or Spanish! Each page invites to a new place to go: park, school, beach, amusement park, farm, farmer's market, bakery, supermarket, restaurant, library, museum, train station. Every page is touch-sensitive, and very easy for little hands. All the objects and names are written in both English and Spanish. The book teaches vocabulary, colors, numbers, and music! If that was not enough, there are three different modes of play: your little ones can hear new words being read aloud, listen to fun sounds, and learn about colors and counting. A little cute light-up star adds a fun spin to this little book of wonder and exploration. This product delivers a lot of of entertainment, all while providing an effective learning experience.
My little one loves to play with this book every day. We read it together, and repeat the words, and she also plays by herself - talking to pages and touching them to hear the sounds. When I notice her being bored, I suggest we read this book, and it always helps entertain her for a while. It is recommended for ages 1.5-4 years old, but I can say it is perfect for a wide range of kids, as it is just fun to explore, and hear all the fun sounds it has to offer.
Buy this product at:
As an Amazon Associate we earn from qualifying purchases.