Academics' Choice Award™ Winner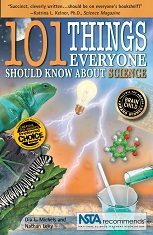 101 Things Everyone Should Know About Science
Ages: 8 - 12
Price: $9.95
Type: Book
By
Science, Naturally!
Description
Why do you see lightning before you hear thunder? What keeps the planets orbiting around the sun? Why do we put salt on roads when they are icy? What metal is a liquid at room temperature? And the burning question: Why do so many scientists wear white lab coats?

Science affects everything -- yet so many of us wish we understood it better. Using an accessible question-and-answer approach, "101 Things Everyone Should Know About Science" expands every readerís knowledge. Key concepts in biology, chemistry, physics, earth and general science are explored and demystified by an award-winning science writer and a seasoned educational trainer. Endorsed by science organizations and educators, this book is perfect for kids, grown-ups, and anyone interested in gaining a better understanding of how science impacts everyday life.

Review Highlights:
This book helps children to learn basic scientific concepts. Skills developed would be on a passive level. Children are asked questions and are to respond to the questions. Then the information is provided for them to answer them. Some critical thinking could be encouraged when the kids are responding to the questions.
All of the information was provided in a kid-friendly manner, so mostly all of the information was easy to understand.
My boys found the book fascinating. It spurred their curiosity of the natural world.
Buy this product at:
As an Amazon Associate we earn from qualifying purchases.