Academics' Choice Award™ Winner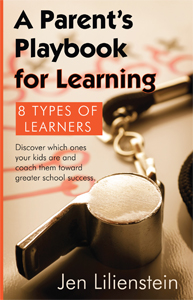 A Parent's Playbook for Learning
Ages: Parents/Teachers of kids ages 5 - 12
Price: $3.99-$14.95
Type: Book
By
Kidzmet
Description
A detailed, practical guide to help parents (and teachers!) understand how different personality types learn best.

The techniques revealed in this book teach parents specific, research-backed, actionable strategies amassed from nearly 100 reference texts with respect to:
* How to create a learning environment that allows their kids to excel and develop confidence in their abilities.
* How to support and encourage their kids' educations in ways that are best for him or her.
* How to teach their kids the strategies that help them each play to their individual learning strengths.

Book reveals how each of the eight personality types naturally:
* Get organized
* Get motivated
* Approach new concepts
* Learn in groups
* Take notes and "file" knowledge
* Tackle homework and test prep
* Gravitate to certain extracurriculars and teachers
* Handle successes and failures


Review Highlights:
...a very useful tool to help parents understand the relationship between personality types and learning styles. For parents with plenty of resources available to them, this book provides helpful advice regarding how to create contexts at home that can facilitate their children's learning. The use of fables/stories seems like a creative way to introduce the various topics. In short, this book can be effective in teaching parents about their children's personality types and how this impacts the way that they learn.
Before I began reading this book I researched the author's previous experience and education in the field. I found that Jen Lilienstein is highly qualified to write such a book that could be very influencial for not only parents but for teachers and schools as well. Jen studied Gardner's theory extensive, she's serves on numerous academic boards, and is an active mom of 2 young children.
A Parent's Playbook for Learning" is a relatively easy read that will help you classify your child's learning process and make learning seem fun and more natural for the child. Jen starts with the theory that there are 8 kinds of learners. She then outlines the criteria for each leaner and asks the reader to classify their child. From then on, you can simply choose to read about just your child's natural inclinations or you can compare them with others and learn to appreciate the diversity of learning. I truly enjoyed this insightful book. With 15+ experience as an educator I've read so many books on multiple intelligence, but I do think this one is unique. It is easy to understand, straight forward in it's content, and applicable for even someone who is unaware of the many pathways to reach children during the process of learning.
Buy this product at:
As an Amazon Associate we earn from qualifying purchases.