Academics' Choice Award™ Winner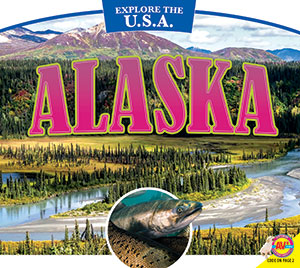 Explore the U.S.A. - Alaska
Ages: 5 - 7
Price: $19.99
Type: Book
By
Weigl Publishers Inc.
Description
Did you know that there are more than 70 active volcanoes in Alaska? Or that Alaska has the largest seal colony in the world? Discover more exciting facts about the history, geography, and symbols of this state in Alaska, part of the Explore the U.S.A. series. Each book in the series uses vibrant images and engaging text to take beginning readers on a journey across the nation.

Review Highlights:
Explore the U.S.A. - Alaska has colorful pictures, quick and interesting facts, and allows any age to explore Alaska as deeply as their level of education allows. I appreciated the timeline of history for the State, the information about the people and the climate; all this allowed us to compare where we live and what our people and climate are like. We imagined together being with the people in the pictures and discussed what life must be like--how hard they worked, how far your neighbor might be from you, what you might eat, where you would work, what kind of house you would live in, etc. The points of interest in geography were also appreciated due to our kids being taught geography of the world at an early age.
The website was easy to use. The ability to print additional activities is a nice option to increase interest in the subject. This is a great way to introduce researching a topic to my kids.
I like this book as a starter for young learners to begin the skill of researching a topic.
Buy this product at:
As an Amazon Associate we earn from qualifying purchases.