Academics' Choice Award™ Winner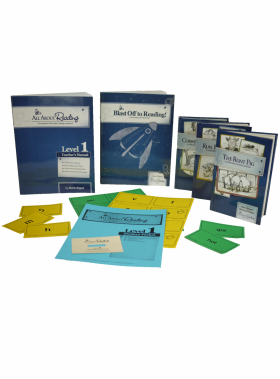 All About Reading Level 1 Kit
Ages: 5 - 8
Price: $99.95
Type: Activity Book, Poetry, Story Book
By
All About Learning Press
Description
The All About Reading program is complete with no gaps - students will learn all five key components of reading, identified by the National Reading Panel as essential to becoming a fluent reader.
EASY TO LEARN - The All About Reading program is based on multisensory "hands-on" learning and step-by-step lessons presented in logical order. Plus, new concepts are taught one at a time and review is built into each lesson. This makes the program easy to learn, even for students who struggle. Students use color coded letter tiles on a white board, flash cards, and original readers that are 100% decodable. The multifaceted activity book reinforces learning with lots of interesting games, activities, and fluency practice.
EASY TO TEACH - The "open and go" scripted format allows a parent to relax and teach reading to their child with total confidence. Plus, the lessons are mastery-based so they can be easily customized to meet the needs of each individual child. In addition, the All About Reading program comes with lifetime support via telephone and email. Our Teaching Tips newsletter goes out every week and our website is packed with helpful content like how-to's, videos, and articles on teaching strategies. Parents can also communicate with other moms on our active Facebook, Forum, and Blog pages.
Review Highlights:
This complete and comprehensive reading curriculum is one of the best on the market today. It's hands-on, multisensory approach engages the child with organically drawn illustrations and age appropriate level stories. The series moves forward naturally so the child is slowly challenged with each new story that is presented. A student packet is provided for the purpose of review and retention. All About Reading Level 1 is highly recommended by the Academics Choice Review Board for an engaging, research based approach to learning how to read.
My child love these books! I'm seeing such an amazing improvement in his reading!
All About Reading Level 1 is a beginning reading program for students who can already identify the letters of the alphabet and are familiar with the idea that each letter makes a sound. In 49 lessons the students are taken through all the consonants, the short vowels, and a several blends and digraphs. With each added sound, students first practice blending sounds into words using letter tiles then complete a blending activity in the workbook. Most lessons also include work with an increasing number of flash cards that include a few key sight words. Some lessons include "fluency practice" in which students read first words (usually all have been part of the blending work of a previous lesson), then phrases with the words, then whole sentences. Some lessons also have you read from a hardcover book after having answered some questions designed to develop prior knowledge on the subject of the story.

This curriculum is a carefully scaffolded, phonics based curriculum, similar to something like Teach Your Child To Read in 100 Easy Lessons. The three included hardcover books have the same beautiful sketched illustrations as in the Pre-Reader All About Reading. The stories all have that sometimes stilted language that is required to create stories with a controlled vocabulary but the illustrations do a great job of bringing the limited vocabulary to life!

The tips and teaching advice in the each lesson give parents or teachers excellent advice about teaching beginning phonics skills. Overall, I'd recommend this program to a parent or tutor looking for a scaffolded, structured approach to teaching phonics, but I'd recommend that it be supplemented with other activities to develop listening comprehension and a love of reading.
Buy this product at:
As an Amazon Associate we earn from qualifying purchases.