Academics' Choice Award™ Winner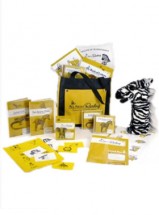 All About Reading Level Pre-1 Deluxe Package
Ages: 3 - 5
Price: $119.95
Type: Activity Book, Poetry, Story Book
By
All About Learning Press
Description
The All About Reading Level Pre-1 program from All About Learning Press focuses on what have been termed the Big Five Skills. These five fundamental pre-reading skills include letter knowledge, phonological awareness, print awareness, listening comprehension, and motivation to read. It is this specific set of skills that helps pre-readers understand the basics of language and how it works, preparing them to learn to read. Your child will engage in a variety of multisensory activities, all the while effortlessly absorbing these Big Five Skills. This program is ideal for preschoolers and kindergartners. For more information go to www.AllAboutLearningPress.com.
Review Highlights:
As a public school teacher, I would recommend All About Reading Level Pre-1 as a solid foundational reading program for individual students or small group tutoring.  The activities in this program are unique in that in addition to letter recognition and sound identification activities, each lesson incorporates phonological awareness activities which are foundational to reading success.  The ability to hear, pick out, and discriminate between individual sounds in words are skills which are essential to becoming a successful reader.  This program incorporates games with the included picture cards or with the Ziggy the Zebra puppet that make  phonological awareness skills fun for children to practice. 
The materials themselves use single color line and shaded drawings for the illustrations, which remind me of more classical curriculums such as the McGuffy readers or some Waldorf-style materials.  The Teachers Manual is easy to follow.  Sidebars scattered throughout the book offer helpful hints and background information for the instructor.  A box with dividers is provided to store the picture and letter cards for the program and the cards themselves are labeled so if one gets separated from the rest, you know which set it belongs with.  Two sturdy hardcover books are part of the program which children will want to read repeatedly.  A consumable workbook of mostly coloring and pasting activities and two posters are also included.  The zebra puppet is sturdy and well made.  These materials are very scripted.  Although you might skip around, it would be difficult as the  phonological awareness activities build upon each other.
I would recommend this program to families who are concerned that their kindergartener has not yet developed  phonological awareness skills or for early readers who still have many gaps.  Because of the interactive nature of the program it would work best with individuals or small groups. The stories, poems, and pictures are not culturally diverse-- they represent only white children and primarily middle class family topics and values.  The program reviews the letters three times-- as capitals, lowercase, and by sound-- each time in alphabetical order.   It does not include a written component, but that could be added with any basic handwriting curriculum.
As a parent of a homeschooling kindergartener, I have really appreciated this learning product. The skill set it introduces to produce on-going success in reading is very helpful and gets across to different learning styles.  My son really likes the simple lessons, listening to the stories and poems, and participating in the varied activities and games. Even my 2-year-old is engaged in some of these, especially when "Ziggy" is involved.
Because my kindergartener was reading some already, this program was a great way to reinforce and review concepts as well as fill in some of the missing pieces of becoming a fluent reader. The experience of using this AAR product has been a joy to our family.
Buy this product at:
As an Amazon Associate we earn from qualifying purchases.