Academics' Choice Award™ Winner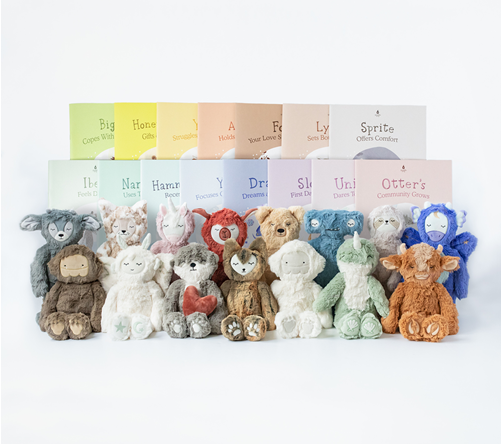 All the Kins Educator Set
Ages: 1 - 8
Price: $750.00
Type: Book, Toy
By
Slumberkins
Description
All the Kins Educator Set includes 15 large-format educator books plus 15 coordinating plush creatures to help children relate and create a positive attachment to the social emotional skill they are learning. Each book in the collection promotes a different social-emotional skill, supporting students with engaging stories, beautifully illustrated pages, and skill-building lessons. Perfect for classroom use and small group reading. Lessons can be easily customized to fit your needs, making it simple to share social-emotional learning with children and students. All the Kins Educator Set also includes a one year digital subscription to the Curriculum Hub (a $158 value). Designed to support educators with everything they need to bring social-emotional learning to the classroom, the Curriculum Hub provides Slumberkins standards-aligned digital curriculum plus new resources as they launch.

The set includes:

- Alpaca Holds Your Worries Book + Alpaca Kin
- Bigfoot Copes with Hurt Feelings Book + Bigfoot Kin
- Dragon Dreams and Creates Book + Dragon Kin
- Fox, Your Love Stays the Same Book + Fox Kin
- Hammerhead's Recess Challenge Book + Hammerhead Kin
- Honey Bear, Gifts of Nature Book + Honey Bear Kin
- Ibex Feels Deeply Book + Ibex Kin
- Lynx Sets Boundaries Book + Lynx Kin
- Narwhal Uses Teamwork Book + Narwhal Kin
- Otter's Community Grows Book + Otter Kin
- Sloth's First Day of School Book + Sloth Kin
- Sprite Offers Comfort Book + Sprite Kin
- Unicorn Dares to be Unique Book + Unicorn Kin
- Yak Struggles with Mistakes Book + Yak Kin
- Yeti Focuses on Her Senses Book + Yeti Kin

- Access to the Curriculum Hub for one year which includes:
-- A year's worth of SEL Resources all in one place ($250 Value)
-- A growing bundle of standards-aligned digital curriculum
-- Teacher-scripted lessons
-- Unit plans are built for large group, small group, or individual instruction
-- Differentiated activities to fit the needs of a diverse group of learners
-- Engaging video content to help students recenter and refocus throughout the school day
-- Classroom visuals, resources, and activities to support and build emotional regulations strategies



Review Highlights:
Children learn how to deal with big feelings with the help of the All the Kins Educator Set by Slumberkins. Narwhal teaches the importance of teamwork, Unicorn shows it's awesome to be unique, and Lynx practices setting boundaries. This set is complete with fifteen books and their matching stuffies that bring comfort while encouraging self-reflection and a healthy expression of emotions.
I loved so many things about this product. First, I loved that each story had an individual stuffed toy that stood for something. Second, I loved the lessons that each story provided. Third, I loved the quality of this product.
I think every school should have a set of these.
This is the perfect set for any educator who is looking for resources to add to their classroom that help children understand others' emotions, as well as their own emotions. The Slumberkins books aim to walk your child through their journey of emotional development, each book with a different topic for kids to enjoy.
Chidren learn and practice listening skills, comprehension, socio-emotional health, compassion, empathy, resilience, and love - all while building confidence and a mental toolbox of SEL skills.
Buy this product at:
As an Amazon Associate we earn from qualifying purchases.