Academics' Choice Award™ Winner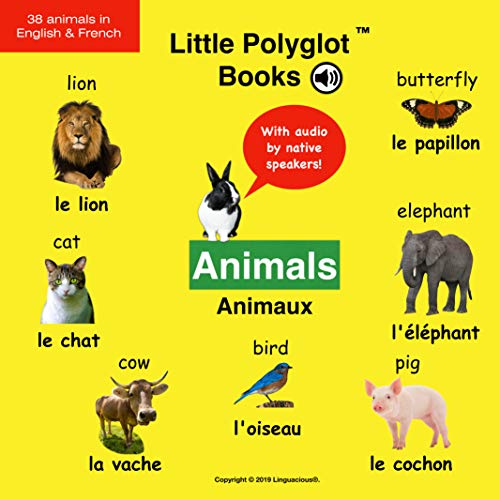 Animals/Animaux: French and English (with audio by native speakers!) - by Little Polyglot Books
Ages: 3 - 7
Price: $12.99
Type: Book
By
Linguacious
Description
The Little Polyglot Book series are a much-awaited paperback version of the award-winning Linguacious vocabulary flashcard game. For a price of $12.99 (book) instead of $21.99 (flashcard game price), we make the same award-winning design elements and technology available in this smart book to kids all over the world for a more accessible price. Each word is pronounced by a native speaker of the language and kids can practice reading, writing, listening, and speaking, while playing fun games to practice the vocabulary in each book.

Games (including Vocabulary Snakes and Ladders) are available from: https://www.linguacious.net/littlepolyglot-games

By releasing the Linguacious Little Polyglot Books series, Linguacious will be able to develop a much higher number of languages in less time, allowing more and more kids around the world to learn any language they may want.


Review Highlights:
We really liked this book. It was easy to download the app scanner and get started. We listened really hard to the words and tried to mimic them. We laughed a lot because my son is not used to learning another language. The book also spawned questions about geography and why people speak different languages. I really loved the "Our Dream" section on the website too. It spoke volumes because most companies are owned by people who are in it for the money and for business reasons only. This book was made by a family just like ours. Super sweet story!
It was simple! We really enjoyed this simple little book. The fact that I can download the app and scan each code to get an audio version of the word is the selling point for me. I'd recommend this book for any child who is interested in learning French.
We liked the pictures and the sound of the french woman's accent. The games makes learning French words much more fun for the kids (and adults), and it shows as they are remembering the words!
Buy this product at:
As an Amazon Associate we earn from qualifying purchases.