Academics' Choice Award™ Winner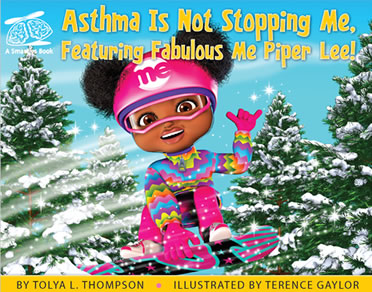 Asthma Is Not Stopping Me, Featuring Fabulous Me, Piper Lee
Ages: 5 - 9
Price: $16.95
Type: Book
By
Savor Publishing House, Inc.
Description
Asthma Is Not Stopping Me is the second release in A Smarties Book series featuring Piper Lee. Asthma Is Not Stopping Me is not simply a story of controlling asthma. It is a story of conquering asthma. Piper Lee, with her inner voice, MeMe cheering her on, tells a story of triumph as Piper Lee swims, snowboards and yes, get straight A's. Piper's high energy and interactive message of never letting asthma stop you goes out to all children. Live life to its fullest and Stay Fabulous!

Review Highlights:
What a wonderful book to introduce to elementary aged school children. Asthma is a very common condition and children need to learn about what it is, how it can be prevented and about how people deal with it. This book does all of those! This book also teaches empathy, which is a key skill in the interpersonal development of a young a child. Piper Lee teaches kids in such a simple and direct way, any child will be able to relate. Great book!
We learned about "triggers." Triggers cause asthma attacks and there are ways to stay away from triggers. We also learned how to be more empathetic toward someone with asthma.
Buy this product at:
As an Amazon Associate we earn from qualifying purchases.