Academics' Choice Award™ Winner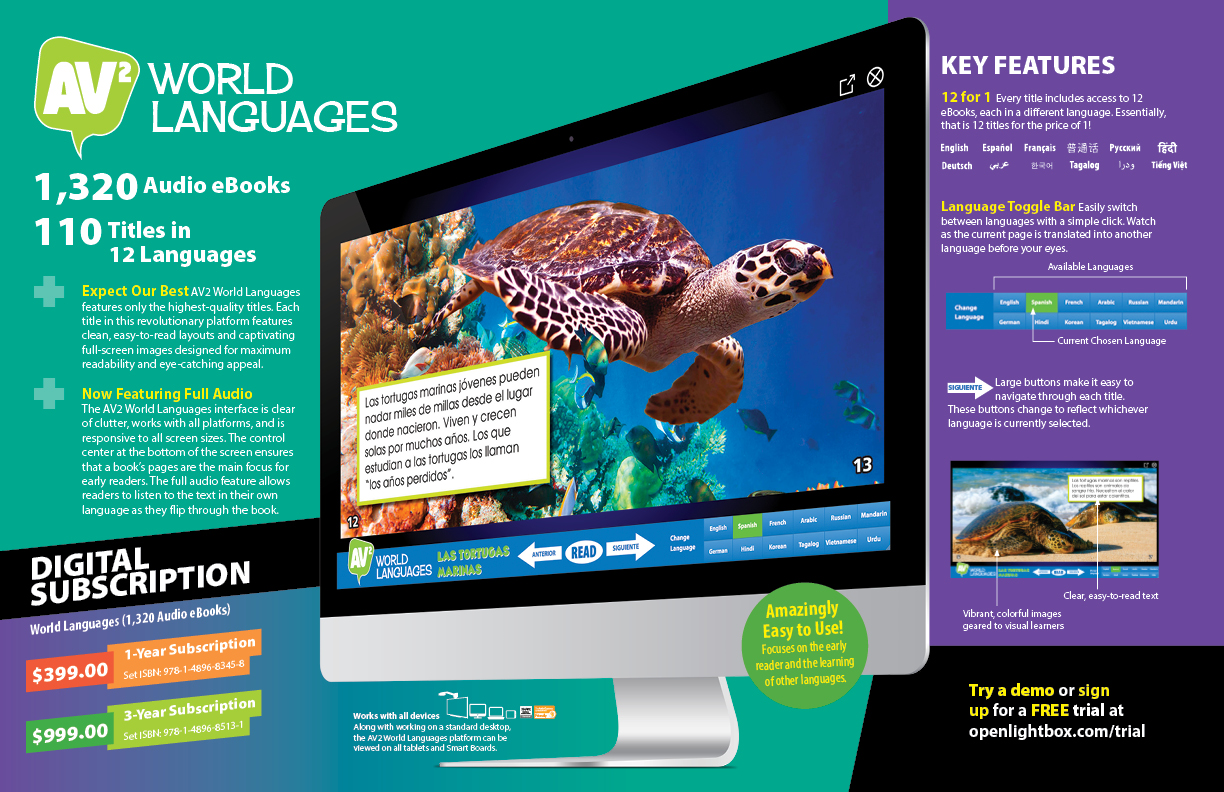 AV2 World Languages
Ages: 5 - 8
Price: $399 for a 1-year subscription, $999 for a 3-year subscription
Type: Book, Website
By
Lightbox Learning
Description
AV2 World Languages features only the highest-quality K-2 titles. Each title in this revolutionary platform features clean, easy-to-read layouts and captivating full-screen images designed for maximum readability and eye-catching appeal. Every World Languages title is available in 12 different languages, with additional titles being added every year. Users can easily switch between languages with a simple click to get a bilingual experience.

The AV2 World Languages interface is clear of clutter, works with all devices, and is responsive to all screen sizes. The control center at the bottom of the screen ensures that a book's pages are the main focus for early readers. The full audio feature allows readers to listen to the text in their own language as they flip through the book.

Currently, the World Languages subscription features more than 1,300 audio eBooks. New titles are added to each subscription throughout the year. Prospective users can easily sign up for a free 30-day trial to ensure that World Languages is right for them.


Review Highlights:
Learning new languages can be challenging, so anything that makes it fun and exciting is a win in my book. Children have a range of languages from which to select: Spanish, Russian, French, Arabic, Mandarin, German, Hindi, Korean, Tagalog, Vietnamese, Urdu, and Portuguese. As they learn about subjects in various languages of their choosing, they can learn interesting facts as they flip through the pages. The T-Rex book teaches kids about facts such as it's diet, it's environment, the meaning behind it's name, and so much more fun trivia, all while they are learning to read in a different language!
The World Languages from AV2 offers so many books! Whether your student is interested in continents, animals, planets, rain forests, shapes, sports, seasons, fire stations, and so much more, there's something for everyone. They will develop their comprehension and reading skills as they learn a new language. Online access gives students the ability to view each book in multiple languages.
Buy this product at:
As an Amazon Associate we earn from qualifying purchases.