Academics' Choice Award™ Winner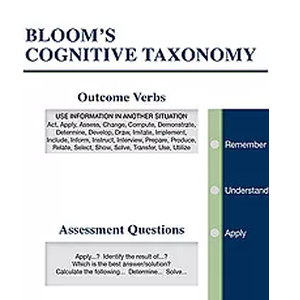 Bloom's Cognitive Taxonomy Slider
Ages: 5 and up
Price: $3.99
Type: Book, Slide Rule, Sundry
By
Educational Blueprints, LLC
Description
The Bloom's Cognitive Taxonomy Slider is a quick hand-held reference guide for developing course objectives, and can be used to promote backward design. Taking the form of a slide rule, for each level of cognitive learning it suggests outcome verbs, assessment questions, and instructional strategies.

It is designed to accomplish three things:

1. Help faculty develop good questions. The suggested outcome verbs and assessment questions will facilitate the creation of essay questions for exams and quizzes, prompts for classroom discussions, and items designed to solicit formative feedback from students.

2. Suggest instructional strategies to use in the classroom. The slider offers faculty a selection of ideas on how to mix things up a bit in class by providing suggestions for a wide variety of instructional strategies that are appropriate at each level of Bloom's Taxonomy.

3. Promote backward design thinking. This Bloom Slider Educational Tool has three boxes that correspond to the different steps in backward design (Wiggins & McTighe, 1998). In backward design one first determines the goal (see Outcome Verb boxes), then identifies how to best gauge success (see Assessment Questions box), and then as a final step determines how best to reach the desired state (see Instructional Strategies box). This tool is unique in that it is a resource designed to help faculty better understand the cognitive level of their backward design efforts.


Review Highlights:
What a great tool to for a teacher to have on his/her desk! I'd use this for reference during class discussions and to write quizzes. I'm well aware of Bloom's Taxonomy in all I do as an educator but this little slider will be very handy beginning next week when school starts.
This product relates to 6 levels within the cognitive domain. It is compact and easy to use offering quick reference when working directly with students or when planning, including outcome verbs, assessment question starters and an instructional strategies category.
Buy this product at:
As an Amazon Associate we earn from qualifying purchases.