Academics' Choice Award™ Winner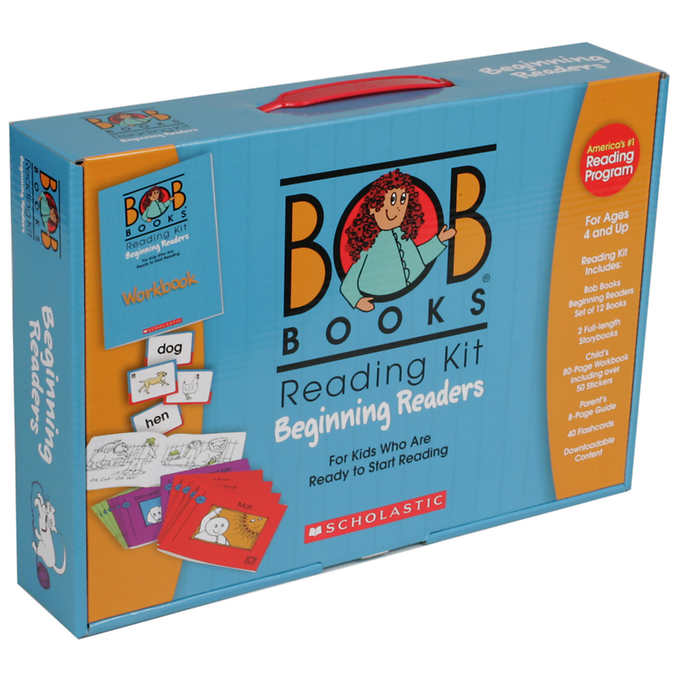 Bob Books Reading Kit - Beginning Readers
Ages: 4 and up
Price: $39.99
Type: Book
By
Bob Books Publishing, LLC
Description
This is Bob Books bestselling first reader, introduced more than 35 years ago and used by millions of children. If your child knows the alphabet, Bob Books Reading Kit 2 is the kit to start them on the path to reading.

Many early readers contain words that are too difficult for a child who has just learned the sounds of the alphabet. Not these books! Using only the letters M, A, T and S, children can read their first book. New letters are added gradually, until all letters of the alphabet have been introduced (except Q). Short vowels and three-letter words in simple sentences help kids build reading confidence. They love the stories and funny pictures, and can't wait to read them to everybody they know.

12 books, 12 pages each - each written in all C-V-C words and short sentences, encouraging young readers to segment words into 3 parts, as they begin the process of sounding out words.

A few letters are added in each sequentially ordered book, with only 5 sight words introduced in the whole set.

As the books progress, all letters of the alphabet (except Q) are introduced with consistent sounds throughout.

Each book has a "sounds/picture" dictionary inside the front cover to introduce readers to each letter.

Bob Books Beginning Readers Workbook
The workbook provides 80 pages of fun activities for students that build upon skills introduced in the Bob Books boxed set. A combination of reading, writing, coloring, tracing and stickers keep students engaged, focused and having fun while they learn.

Bob Books Beginning Readers Flashcards
Uses vocabulary from Beginning Readers for word games and practice.

Bob Books Stickers
Over 50 fun, colorful stickers complement activities in the workbook.

2 Bob Books Full-Length Storybooks - The New Puppy & Outdoor Adventures
These original Level 1 Readers feature short, simple sentences, making them ideal for children to read with help. Colorful illustrations, new vocabulary, and high-interest topics heighten the appeal to new readers.

Bob Books Beginning Readers Bonus Downloadable Content
Don't miss hours of downloadable content including fun coloring and activity pages that strengthen your child's reading skills. Also included are the Bob Books Alphabet Song and eAudio books for the Beginning Readers set.

Bob Books Beginning Readers Parent Guide
The Parent's Guide offers a variety of tips, techniques, and activities that parents can use to help children strengthen their reading foundational skills. The tools found in the guide are perfect to use in conjunctions with the books in this kit, but can also be applied more broadly along your child's reading journey.

Review Highlights:
In Bob Books Beginning Readers children learn and practice emergent reading skills, phonemic awareness, and writing. I like the wide variety of supplies that were included. There were the emergent reader books, word flashcards, lesson plan guide, and a workbook for your child to do that included a wide range of literacy activities. This was a great product and helps beginning readers gain the confidence they need to continue to have success in reading. The fun and easy books are sure to please any reader. The extra flashcards and workbook is a nice addition to strengthen skills too!
Bob Books are designed for students that are starting to make associations between letters and sounds and early phonics skills. The Beginning Readers are perfect for students who have mastered the alphabetic principle. The Reading Kit is so much more than the box set of Bob Readers that I've seen before. It is a complete learning kit with multi sensory components that allow for lots of practice.
I loved the size of these readers. They are not "pocket-sized" but instead are large enough for small-group use. The kit includes flashcards and a workbook that extend the practice and help make the stories meaningful. Children develop confidence as readers very quickly and can see their progress using this kit.
My 4-year-old is at the perfect age and ability level for the Bob Books Beginning Readers. She is able to sound out the CVC words in the books with minimal help. She is proud of finishing a "whole story" and can progress in skills from one story to the next. The kit has expanded the basic readers with more engaging stories in the full-length storybooks. Bob Books have been a go-to resource for me as an educator for years and I am excited that more kits are available for single student or small group use.
The reading kit provides a variety of literacy focused learning opportunities for students just beginning to read. Students in kindergarten were reading the books, which ranged from guided reading levels A through C. There are also flash cards for word recognition practice and a workbook that includes a variety skill practice pages like tracing, letter sounds, and writing.
I liked that the kit included a variety of books at specific reading levels, but within a appropriate range. The range of books from A to C made it appropriate to use with a student for a time period that would last several weeks. Students progress at different rates, but for those reading levels it would take more than a couple books to develop the skills needed to move on. It was nice to have a kit that offered several leveled readers for each level. The parent's guide also made it easy to use for anyone without an educational background.
Buy this product at:
As an Amazon Associate we earn from qualifying purchases.