Academics' Choice Award™ Winner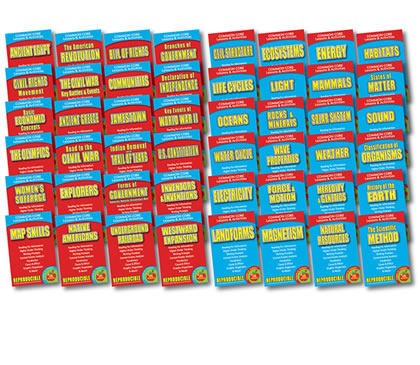 Common Core Lessons and Activities (Series)
Ages: 8 - 14
Price: $4.99 each
Type: Book
By
Gallopade
Description
Teacher's are expected to change how they teach because of new CCSS for English Language Arts and new CCSS for Literacy and Writing in History and Science. Teachers must continue to meet their existing science and social studies standards AND integrate new reading, writing, analysis, inference, rigor and more into their daily instruction. The new Common Core Lessons and Activities series provides everything teachers need to successfully incorporate Common Core into their classroom curriculum. These books contain a page-by-page correlation guide to Common Core State Standards and lessons that utilize:

Text-Dependent Questions
Writing: Opinions, Arguments, & Informational
Primary Source Analysis
Determining Explicit & Inferred Meanings
Understanding Point-of-View
Academic Vocabulary
And more!

The 48 Common Core Lessons & Activities include:

The 24 titles for Social Studies:
1. Ancient Greece
2. Bill of Rights
3. Branches of Government
4. Civil Rights Movement
5. Declaration of Independence
6. Jamestown
7. Key Events of World War II
8. Road to the Civil War
9. Economic Concepts
10. Indian Removal & Trail of Tears
11. U.S. Constitution
12. Women's Suffrage
13. The American Revolution
14. Explorers
15. The Olympics
16. The Underground Railroad
17. Democracy, Monarch and Oligarchy
18. Native Americans
19. The Civil War: Key Battles and Events
20. Inventors and Inventions
21. Map Skills
22. Westward Expansion
23. Communities
24. Ancient Egypt

The 24 titles for Science:
1. Energy
2. Cell Structure
3.Habitats
4. Light
5. Mammals
6. Oceans
7. Rocks & Minerals
8. States of Matter
9. Solar System
10. Sound
11. Water Cycle
12. Weather
13. Heredity & Genetics
14. Magnetism
15. Natural Resources
16. Ecosystems
17. Force & Motion
18. History of the Earth
19. Life Cycles
20. Wave Properties
21. Landforms
22. The Scientific Method
23. Classification of Organisms
24. Electricity


Review Highlights:
We learned a lot about informational text, how to analyze information, new vocabulary and dissecting primary documents.
We enjoyed how "to the point" these small books are. Although they are small, they are packed full with information and opportunities to think deeply about any given subject.
Buy this product at:
As an Amazon Associate we earn from qualifying purchases.