Academics' Choice Award™ Winner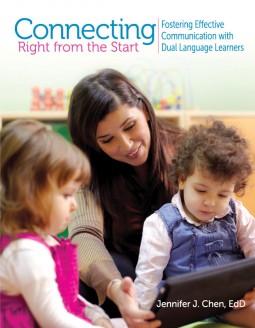 Connecting Right from the Start: Fostering Effective Communication with Dual Language Learners
Ages: 16 and up (Adults)
Price: $19.95
Type: Book
By
Gryphon House, Inc.
Description
Connecting with dual language learners (DLLs) is a growing reality among early childhood educators, who need to learn practical, proven strategies to reach these students. Grounded in research and strengthened by the authorís personal experience as a student learning English, Connecting Right from the Start helps teachers understand the culturally and linguistically diverse children in their classroom, as well as those with disabilities.

Review Highlights:
"Connecting Right from the Start: Fostering Effective Communication with Dual Language Learners" by Dr. Jennifer Chen addresses a common problem in many classrooms today: communication. Particularly in the younger years, children need to communicate their feelings, or they can become isolated, scared and overwhelmed in the classroom. Our country has become so beautifully diverse, but many teachers have not been given the tools to interact with children that do not speak their native language. This book is readily available to educators and offers precise advice to deal with communication issues in the classroom.
Dr. Chen does a fantastic job in that she engages the reader with her clear and accurate language and theory while at the same time offers information that will build on any teachers prior knowledge of communication. In particular, I thoroughly enjoyed the adaptation of Howard Gardner's theory. She even offers ample teaching strategies that underline her ideas of communicating with Dual Language Learners.
This is a great read. I highly recommend this book if you are teaching in an ethnically diverse classroom or are just curious about how you can sharpen your communication skills with young Dual Language Learners.
Buy this product at:
As an Amazon Associate we earn from qualifying purchases.