Academics' Choice Award™ Winner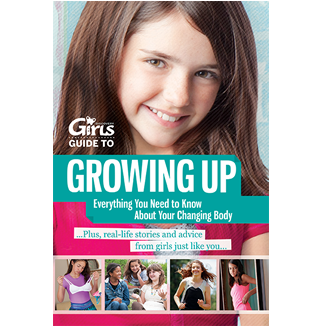 Discovery Girls Guide to Growing Up
Ages: 8 - 12
Price: $9.95 each
Type: Book
By
Discovery Girls, Inc.
Description
Discovery Girls Guide to Growing Up explains everything tween girls need to know about puberty in a straightforward and relatable way. By understanding what's going on inside her and knowing what to expect next, she'll spend less time wondering and worrying about what's happening to her body and more time enjoying the changes. She'll also learn how to handle her emotions and love her body (even if it's not perfect!) so she'll feel confident and ready for all the challenges of puberty.

Thanks to tens of thousands of girls who were brave enough to share their stories about pimples, periods, bras, emotions, and more, she'll know she is not alone. And with this new digital edition, she'll even have fun with all the extra interactive features!


Review Highlights:
This book answers all the embarrassing questions young girls will have about their bodies using straightforward and positive words. "Growing up" can be used as a reference book or read through in its entirety. I do wish I had this book when my daughter (now 20) was a tween. We covered most of this material, but with this book it could have been much easier, more straightforward and much more thorough. Chapter 7 was the perfect ending. All girls compare them selves to other girls, especially the magazine and TV stars. It states that 60% of tweens get their ideas about right body types from the media. The book then analyses how the top models use hair extensions, take hundreds of photos before choosing the right photo, and of course do lots of photo editing. Great book for any parent ready to discuss puberty with their young daughters. I'll be passing this one off to my friend with two daughters!
Buy this product at:
As an Amazon Associate we earn from qualifying purchases.